new email account: pamelapuppiesok@yahoo.com
"Companion blessings" Chocolates: black: tricolors; brindles; mahogany; black and white, etc I keep my puppies til 3 months old, at least, some longer... .. housebreaking, cage trained, socialized, taking four sound commands, had all three puppy shots, wormed and microchipped.dew claws removed... ....look through this web site to find the color you like and contact me to choose one already born or get on my wait list..call me for pictures 918-967-4498 to check status of newborns or you can email me at mailto:pamelapuppiesok@yahoo.com. I am still taking prepaid deposits $250 to put you in line for a puppy if I don't have your color and you have time to wait....Many of my puppies are chosen when they are born or in the first 8 weeks,I do have several options right now, you can reserve a color or a bloodline before birth as people know what color they want or maybe even what bloodline as they already have shihtzu heaven puppies and adding to their family. so if you want to do a prepaid deposit you can call me 918-967-4498. Email me to be on my call list or for pictures of current puppies
I no longer update everything to this site but instead work with each of your personally, email me or call for your personal montage of available puppies.
I have puppies from new born sizes to ready to go sizes at 3 months and a few older ones
puppies 11-17.wmv
Customer Comment: "It was an awesome adventure, I can't stress how impressed we are with the techniques you use and how loving the puppies are!! It was such a great experience to have you get involved with us, and walk us through each step. It was great also knowing you want what is best for your puppies but what would fit with us too! You have something great, well worth the drive! I can't wait to come back and visit our puppy." Thanks Julie
NOTE: Pictures are cropped as close as possible to show detail for your benefit, however it often makes the puppy look larger so remember the puppy is actually a lot smaller than he looks in picture
Call me or email for pictures of current puppies available.
all these puppies listed below are already on hold or already in their new homes, have little babies available to be ready early September taking deposits and also on my new borns which will be ready late October/November into Decemember...... call me for pictures

Ready for your love.....don't wait...come see me now...ALL MY PUPPIES ARE PREHOUSEBROKE to outside, pads, crate trained, the work is done, now you add the love.

"Pupcake" chosen by Jayden for Santa to bring


her.Mom & Dad says Dec 9 Santa will have Pupcake n his sleigh. SURPRISE!

"BJ" renamed "Rodee" after his new parents:


Roger and Dee, going home to Mustang, Ok in about a week

"Tatiano Izzabella "Tizzy" perfect black & wh


Tizzy is quite the little doll,beautiful markings,last in her litter, they were very popular

Your puppy has been raised with love and housebroke and crate trained, put to bed everynight and woke up every morning just like you would. socialized to other puppies and many people who come through S Heaven every week as well as my family. Prehousebroke, had shots/wormed, AKC

I am sorry I can't add your pictures that are leaving with puppies right now, this site will no longer let me add pics but the information on here is too valuable to lose

All my puppies come with:all three puppy shots,housebroke routine established,identification chip,softbed,food,products,blankie,toys,brain & body trained to maturity,pampered, puppy focus established to pack leader, sleeping in crate all night and naps during the day, and trained in puppy territory, ask me about my playyards.

"Waldon" snatched up by the Lane family


he will be moving to Alma when he is ready to go. Going to be Julie's baby

"Penelope" is going home to New Jersey when she


is ready to fly to her new mommy, Kristina, and Grandmother, Margherita. They are so EXCITED!

"Penelope" going home by plane to NJ


it was a blizzard that night when Kristine found her angel on the internet, meant to b her baby girl

TWO IS SO MUCH FUN!

"BooBoo,Star(S & Sterling"gather round for their


first meeting....wonder what they talked about. Cute cute cute

"Red & Yellow, Black and White,they are precious n


his sight, Jesus loves the little children of the World." S Heaven has all colors
All of these puppies below are in their forever homes and doing great,scroll and view for color and fun.
Click here to enjoy the video
shih-tzu heaven 5-22-11-a.wmv
As most of you know... I strongly recommend use of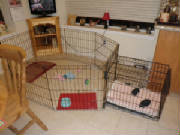 the 'play yard' with crate for your puppies "routine" training.....talk to me about this
"Chuckie" little tan/buff color male w blk masking


very unique and very pretty. he is sold and gone home to OKC

Most pictures are enhanced and show puppy is larger than in real life, to show details to you.

"Reese". Sold


Gone home with the CHildress family to Texas got to take Scotty with him too

"Lit'l Boy Blue" snatched up by the Jones


family, gone to Eufaula, Ok with his little pack buddy: Andrew

They fell in love with Lit'l Boy BLue, but Andrew


climbs into Shayla's lap & adopted her, YEP, he got to go home with them TOO!

"Miley May or Emily Claire" chosen by Kevin


but sisAnjanette was pretty excited too!She & Sam adoptedMurray a few ms ago&Kevin loves him!

"Miley May or Emily Claire" chosen by Kevin


and gone home to Texas to meet her new family. Kevin said no pictures, but Meemaw capturd him once

Floyd and Nancy bring daughter and grandchildren


to meet the boys before they come home.....I think they approved of the new babies....lots of fun

Floyd and Nancy visit with their puppy "Buster"


as he isn't ready to leave Shihtzu Heaven yet!

They Notice Kashe and fall IN LOVE!


Nancy chews Meemaw out for having such CUTE Loveable puppies!

....and then it happens! they decide to take both


Kashe and Buster get to go home together.....bros for life in Ark....it makes my heart sing!

"KASHE" gorgeous colors SOLD


Chosen by Buster's Parents, Floyd and Nancy, they will be bros for life now!

"Scotty" my sweet little mahogany male SOLD


Sold Gone home with the Childress family with Reese, staying together in TExas

a great pic of "Little Ross" gorgeous black mask


and brilliant tricolor spots of copper/black/browns. sweet nature sold

Carlie and family..........gone home w/Jan & Gary


How sweet she is, no better than this one, easy going, loving, not shy just companionable!

Carlie and moma Jan gone home to Tulsa


Carlie will come back after Emory when she is ready for Daddy Gary

Ross, Fara, & friends


All these guys are housebroke, cr trnd, kid socialized, come pick your favorite

Foxi Roxi and Little K get acquainted. Foxi happy


t b going home to Texas with new sis: Little K & parents: Norman and Henry

Foxi Roxi lays her head on Little K's back in a


moment of sweetness at their getting acquainted meeting. ahhhhhhhh

Little Bear renamed "Dukke" gone home with


Marylan&Rick t b Rick's BFF Niece Dee is goig t helpout.Big thanks t Diane&Missy brought them here

Little Bear renamed John Wayne Duke SOLD


Such a little poofy teddy bear,...Going home with Rick and Marylan n Ft Smith Ark to be Rick's bf f

"Elizabeth" renamed Pippa and gone home to


Joplin Missouri with Donna and Michael. Lucky little girl

Clementine, Kashe, & Harley enjoy the Okla sun


Kashe and Harley love each other & play together a lot. come see them

Group Hug Photo:


Miley, Farah, Rose and Harley

"CLementine" (SOLD) going home to Micheele


in New Jersey to be her momma's special little angel

Yoda "itsy bitty teeny tiny"


very very very tiny, stay tiny, see to believe, housebroke (SOLD) going home with Amber

"Rose Ginga" SOLD gone home with new


family in McCurtain, yep just down the road from Shihtzu Heaven

"Rose Ginga" and "Clementine" play in the yard


they are both sweet little females. SOLD

"Andrew" &"Lit'l Boy Blue"raised together & going


home together to Eufaula, Ok ... one big happy family

"Clementine" going home with Michelle in NJ


Gorgeous blonde female...sweet, housebroke, great little princess. see to appreciate. tiny

Sonny's new moma has watched him grow since he


was a newborn and her family surprised her on mother's day by bringing her to get him!

your puppy has been raised in the great outdoors


with plenty of playing room and put to bed at night just like you will.

"Bunni" new mommy found her on line and called an


said she was coming to see her. It was love at immedate sight! home in Ark

"Ruedy" nickname RU RUE $sold


Gone home to OKC w Aaron Tammy Cherish & Josiah t meet Silas th weanerdog tht will b new brother

Little Riley An'gel chosen today by Marsha


She adopted Bunni on mother's day and today she, Bunni & Cheyenne came back after Riley. moved t Ark

Yoda,Clemie, Rose Ginga and Dominic


All adopted and in their happy homes

"ANDREW" checking out that flashy thing


Isn't he a doll! he has gone to Eufaula, Ok with the Jones

MORE puppy pictures coming in the next few days........check back for your
favorite color, size and personality. Meemaw Pam
"Miss Ellie" meets Momma Amy and Aunt Sabrina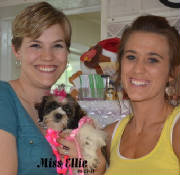 gone home to Ardmore to meet the rest of the family....
"Harli" renamed "Gracie" gone home with Elizabeth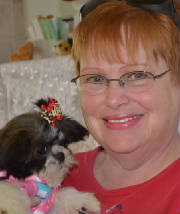 going to be her traveling companion and daddy, Sam is pretty happy too! He's n th car waiting on her
"Sawyer" is finally ready and gone home with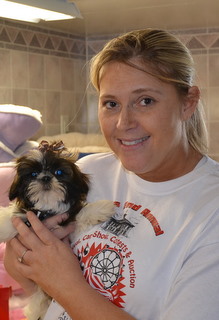 Andrea to meet the whole family. he is loved by all & having no accidents, Andrea reports.
"Haiden" renamed "Tigger" has gone home with
Scott to be his new best Bud to bighten his days and shorten his nights.
It is love at first sight for Debbie and Timmy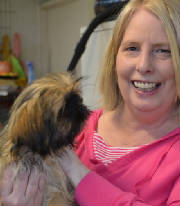 going home to Ark.
Click on postage stamp pic below for video, these puppies are adopted & with their new families but you can enjoy their video for fun....
puppies 11-15-10.wmv
Kenn, Gia and Dakota adopt "Emmy" & take her


home to Indiahoma to meet Shihtzu buddy "Cowboy" and Moma Mistye.

"THE FAMILY DILEMA" 4 girls and 2 puppies........


which one did they take? the black & white: Misty Moon chosen by Daisy.Th Estrada's were happy

Aunt Jessy reports that Meemaw's training has worked on her little mix puppy she rescued. Although the puppy knew no training previously Jessy listened while I trained her mom with JaiDa and applied the training, she reports she is now the pack leader and her puppy is doing Great! Oh, she says so is JaiDa, she and her mom are inseperable, Another match made in Heaven!

"Jai Da" goes home with Kim and Aunt Jessy


staying in Oklahoma and gone home to wrap daddy, Efton & friend 'Duke' around her little finger.

All the way from Nashville comes the Kliesch pack


to adopt "Jerni" waiting at home for her is 'Smokey the Sheltie'

Alycia reports that Smokey is doing well with Meemaw's training also. Jerni is doing GREAT, absolutely the perfect dog, training is continuing perfectly!

"Cooper" snuggles up to the Briese family


on Christmas eve as he joins his new pack in Ark, I hear he and Riley are GREAT friends

Andy reports Cooper is just part of the pack now, His 5 year old loves to walk him, he and Riley are inseperable now and although he has a little spoiled streak he is doing great!

"Ma' La Lei" or "Martiin" which one will it be?


Anjanette and Sam, making up their mind.......HOLD on Martiin til 12-30-10

Anjanette reports that Martiin/Murry and Sam and she are one big happy family. Actually, she says, everyone loves him, he is just a wonderful dog and she is happy that she agreed with Sam and chose him.

"Jai Da" chosen by Kim she'll be back for her &


training...Daddy is pretty happy too! Happy Birthday Moma Kim from Daddy Efton.

What a Lucky Dog Jax has become, Susan and Coco have made him part of their pack and he has made them part of his heart. One big happy family

""Jax" and his new Girl-Friend, CoCo


& mother Susan. Getting acquainted as they leave Shihtzu Heaven for OKC

"Jax" and "Ryker" story, brothers born & raised together but going to different homes and the ironic part: both of them have adoptive shihtzu buddies named 'CoCo' in both new homes.

"Ryker" gone home with Carolyn to meet


his new brother, CoCo, 2008 Shihtzu Heaven puppy....and daddy Gene. in Ark

Carolyn reports Ryker and CoCo have bonded and when Ryker had to be gone to get his surgery CoCo was so lost and lonely, now everything is back to normal and they are loving each other. Mom and Dad are pretty happy with him TOO!

"Printz & Tucker" brothers, adopted together


Jeremiah and Sanaz adopts both boys, one big happy family, funfunfun n Oklahoma

These two brothers "Printz and Tucker" got to stay together right into their new home.

"Jillian Bailey" goes home to Poteau t meet Scotty


Her new mommy, Kensie is very excited, waited a long time...but Bailey is ready now.

"Diviya Su Ling" has gone to OKC to become
Penelope, the princess of these two little girls.

Coming after one, falling in love with two, not unusual at Shihtzu Heaven, we spread the love around here, and actually two entertains each other and are much more settled. Get them together or at different times, both ways work well.

The girls have Diviya Penelope and mom has her
own "Maci Graci" she will come back and get her when she is ready. Gotta grow some more

yes! 1 more makes 3! the Wolfe family loves their


Shihtzus, all for Shihtzu Heaven: Cotton Candy, Popcorn & Peanut!

PRAYERS FOR KAREN & PETE


They came t visit th puppies,missing their little doggie, Karen is taking Chemo UR Prayers welcome

Karen has finished her chemo and she and Pete have picked their puppy out and little Gracie is doing well in their home in Arkansas. SHe is the love of their life and they report Karen is doing really well in her recovery.

Prayers for Carolyn, mother of CoCo and Ryker, she has had a masectomy as her cancer returned, she reports she is doing well and recovering, able to walk with the puppies and her hubby this morning.

Kim, Loraine and Donna request prayer, Loraine's alzheimers is more and more draining on the family. Laine is home with them now and blessing them every day. Donna says she thanks God for Laine every day.

Shihtzu Heaven family you are a blessing to so many people . I appreciate all of you in my prayer chain and just know that prayer works. I talked to a young man at Lowe's the other day, I was purchasing a breast cancer awareness fund raiser item for my granddaughter and he told us 'thank you' for contributing to finding the cure for breast cancer. He looked so sad, I told him I was a survivor and with tears in his eyes he shared with us that his young wife of early 30's had lost the fight, it had not been detected in time and she left him and two small children behind. Girls please make those doctors let you have a mamogram NOW, not matter what your age, it is the early detection of cancer that will save your life. Meemaw Pam

"Little Ja Max" got his mommy, Betty, and she got


her baby boy. Both are a match made in Heaven.

"J Max" and Betty and Betty's daughters: Debbie


and Donna. Thanks Debbie for making this matchup happen.

"J Lei" now known as Macy Gracey #2 makes


these girls VERY happy. She joins "Diviya" their 1st S Heaven puppy

Jennifer reports her household is FULL of love now with all her girls! Diviya/Penelope and Ja'Lei/Macy Gracey are fitting in just like they have always been with them. Training perfectly.

Anjanette and "Martiin" now Murry......the kisses


& hugs & love in bloom. Daddy Sam can't wait to get home to see him.

Martiin Murry Rose had to go home and deal with his Aunt Chihuahua who is the Diva of the Cariker household. But there is hope as Murry won't care for her bossing him around so he can visit his new grandparents.

"Martiin" first one in picture


tricolor spot male, side view showing, beautiful colors, housebroke, last one in this litter

"Ja Max" B/w Male perfect spots


Housebroke, had shots, wormed, just add the love, crate trained, etc

""Jai Da" sweet B/W/ femaleSOLD


She is as beautiful as she is sweet, don't miss this one, last B/W female

"Snooki" chosen by Garland and Donna


He is going home in Heavoner to meet his Shihtzu friend, Maddison.

"Sofia" and her mother Kirby get acquainted


before leaving Shihtzu Heaven to go home to OKC to meet Lexie, her Yorkie sister.

Cooper & Cubby Both adopted & n their new homes.
Beautiful white/buff/cream males tiny size sweet & trained

"Cubby" is headed home with Daddy Joe


Gone home to Drumright to see Moma Brandi and the rest of the pack

It was a family outing for moma, Brandi, to pick her a little girl shihtzu a couple of weeks ago, she did, named her Chloe but also fell in love with Cubby in the Headstart room and just couldn't seem to get him out of her mind. For 2 weeks she has talked about him and today, Daddy Joe picked him up for her while he was working close by, they will come back and get Chloe in February...and get this he has a Shihtzu brother already at home named, Cooper, yes the same as his brother Cooper who has been adopted in Ark. I love how these things work out for the puppies and the people.

Brandi, Nash and Joe, show off the new "Chloe"


going home with them in Feb, but looks like "Cubby" got to go home first to meet "Cooper"
It isn't unusual for each to pick their own puppy, but wow, more fun at home with a friend to play with. no one gets lonely.

Gingersnap goes home with moma Bethany


Harley and Grma Beth. doing very well in OKC

God's Hope is right in your arms with these two:


"JJ" and Moma Pam gone home to Arkansas


Don't know who is the happiest, these two fell in love at first sight

"JJ" Gorgeous Liver Male GONE Home


Won the heart of his new Moma Pam, Aunt Charlotte and Yorky Sister, Emma

"HARLEY" found love with Beth and Bethany


be their MAN of the house...staying n Ok. they'll b bck after "Gingersnap" when she's ready

Daphne and Tinkerbell get picked up by G Pa Tony


he drove all the way of Illinois to make his girls happy, then all the way back. Family pic pending

KC goes home to Arkansas with his new family


Daniel and Elizabeth are happy with their little bear, KC, and Owen and Kylie agree.Thks Gma Kathy

The twins, staying together.Thanks girls!


Hershey and Co Co BB gone home with Jill, Madison & Emma in Oklahoma

THE TWINS Hershey and Coco Identical males


gone home with the Howe family and staying in Oklahoma, TOGETHER! How sweet. Thanks guys

Two little brothers get adopted together and now get their new home in Kansas together. I love it when they get to stay together.

MIchele & Cami choose "Felix" and "Stewart"


to go back to Kansas with them. Brothers Getting to stay together.Thanks girls for loving them both

"Lily" finally gets to go home


Now in Arkansas with Derek, Kyla, Ainsley and Parker. Thanks to GmA Mari for helping out.

"Lily" and her new friend, Ainsley.


Got her bed and her 'stuff' and going home to Arkansas. NOTICE their matching bows!

"Eddy Max" is chosen by Jena and Peggy


gone home to meet daddy and Pawpaw in Oklahoma

"Gracie Gidget" chosen by Carrie and Mike


gone home in Oklahoma and renamed "Maggi Mae"

"Maci Gracie" chosen by Becky to be her new


friend.......thanks to friend Michelle for bringing her to Shihtzu Heaven
All puppies are housebroke, socialized to pack training and children, had shots, no shed, hypoallergenic , wormed.

Identity chips already in place, the puppies come with quite an assortment of treasures and decorated wire cages are available for purchase for their continued crate training with all the smells from Meemaws to go home with you to ease the transition. These puppies are conditioned for the easiest adoption you have ever made...scroll down for pictures
playday at shih-tzu heaven 4-10
GUARANTEED! Pictures appear only 1/2 as cute as these puppies really are! smile Come see them in person and I guarantee one will win your heart.
It was a GREAT Summer, thanks to all of you who have adopted puppies from me here at Shihtzu Heaven. Enjoy these pictures of summer adoptions and come see the new puppies getting ready to be YOUR best friend.......................

Carolines' friends: Jeanetta and Beverly


enjoy playing with the puppies and picked them out a few, maybe they'll be back soon

Emma and new mommie: Emily


The perfect match, Emma waited a long time to finally get her forever mommie

'BB Boy Pookee


Adopted and gone home to bless his new mommie's life, Caroline and friends
SUMMER PUPPIES are ALL gone. enjoy these pictures of their new families

Little Max a Million



"Max a Million" adopted by Jamie and Eddie


Moving to Arkansas to be friends with 2 little boys, picture pending

Trixi Sha Nel' Ma Le' & Little Kix moved to Ark


renamed "Immi" and "Fu Man Chu" by Chris, Jason and the boys & Sister Kiza

Little Jake sweet as they come SOLD


Flying to Pennsylvania to meet new Shihtzu Bro "Max" and Moma Elissa & human Bro,

"Kamiil" going home with new mommie, Nikki


staying in Oklahoma with her new family.....looks like she is going to be a bling girl!

Felix with his new mommie, Brenda, gets a big hug


as they leave for Ark, Thanks sister, Sherrie, for driving Brenda to adopt Felix. A Perfect Match

"Rubi " renamed "Daisy"-gone home w/Summer n Ark
to meet her new Shihtzu friends: Uncle Tucker and Cousins Bo and Toby

"Mandi" closes her eyes and enjoys mommies touch


Lucy is taking her home to meet her new buddy, Rusty, in Oklahoma

"Isabella" adopted by Ashley and gone


home to Arkansas. She is a black and white Dapple, very unique!

"Sheeba" she prefers "Sissy" renamed "Susie"


adopted by Barbara for her new best friend, they nevr get t old at S Heaven,2 yrs, perfect PET!

I aim to please around here, when Barbara asked for an older puppy, I just happen
to have one for her. Lucky Barbara and LUCKY Susie. You girls enjoy each other &
have a long and blessed life together!

Little "Colbie" adopted and moved to


Pennsylvania to live with the Lynch family and G Friend/Chloe

"Little Kobe" flew to Philadelphia with Sweet Pea
to meet new Mommie, Gladys, now living in New Jersey

"Sweet Pea" flew to Philadelphia with "Kobe" to
meet new mommie, Tiffany and brother Jaiden and 2009 Shihtzu heaven bro'Dudley'

"Danielle" goes home with JOhn and Nancy
going to be an Arkansas Razorback over at the University Ft Smith, Go HOGS!

"Kelsey Kate" goes home with Moma Reda
Kelsey is Reda's 2nd Shihtzu Heaven puppy, Thanks Reda, love that baby girl!

"Mindy" gone home to Arizona with Sydney
to be her best friend. Thanks Uncle Dusty for finding us!

Carrie and Mike choose "Gracie Gidget"



Jena chooses "Eddy Max" and Grma Peggy agrees



Emily chooses "Emma" perfect mom and daughter


Daddy Adam is sure she is the one but he is liking that little Jax too!

"Chasity" and her new daddy, Shawn, going to


live in Arkansas with new Shihtzu Brother "Bugar Ben"

""Wendy" now named "Issy" gone home with her


new mommie, Shari in Arkansas. They are going to keep each other company

"Miley" kisses her new mommie and daddy, going


to stay in Oklahoma w/new sister, Sassie. Happy Anniversary Mom and Dad, your parents again!

"CJ" has mommies initials, gone home with Cheryl


to meet his new animal brother, Guido. The entertainment has just began for mommie....

"Jasper" adopted by Linda and giving a big


wave to daddy waiting at home..... Aunt Mindi was very helpful

Cora entertains the puppies waiting for their


new parents to show up for their adoption

Picking their choice, visitors have great fun


playing with all the puppies and finally getting it down to that special ONE!

"Goldie" gets a ride in a red sportscar with
her new mommie and daddy. Have fun guys! Daddy Frank already has her spoiled

"Hope" goes home with Alice and Auntie
Making her mommy very very happy these days, they are inseperable I hear.

"Hunter" going home with Amber and Rylee


This family is now complete with the man of the house...gone home to Ark to meet Grma Chris

"Neeko" chosen by Whitney and Kevin


going home to meet the new Shihtzu brother, Shaggy

The Girls:Grace Ann and her new best friend: Annie


"Sh Daisy" chosen by Grace and Margie to be their little Annie

Annie and Tobie have them a new family


Staying in Oklahoma together with Margie, John, Grace Ann, Preston & Grant

"JJ" and "Snickers" chosen by the Morgan family


going home together/brother and sister/staying together.

"Tobie" chosen by Preston and John


Going to add to the male population in this family, the girls love him too!

"Bo Jangles" gone home with little Angel to be


her new best bud. Daddy Dale and Moma Kathy are pretty excited too!

Sammy, Jessica ande Chance


One big happy family, going home to meet Bernie, 2005 Shihtzu puppy

"Tawny" renamed "Suzy" chosen by Mary & Faith



"Scarlet' chosen by Penni and James but looks


like Beth's kinda liken this 1 too! Bethaney's leavg th nest &taking Mia (08 S Hvn puppy w/her!

"Scarlet" renamed "Trixi" poses in her new


leopard bed as she starts her new life with the Thayer family in Oklahoma.

"Willo Elizabeth" chosen by Jose and Jessica


brought here by their little friend "Cloe" (2008 Shihtzu Heavn Puppy) they r babysitting. Thks Cloe

"Rose" now "Luci" chosen by Janet and Solomon


Sent to Shihtzu Heaven by the Boss family in Oklahoma and their "Wilson" (2008 Shihtzu Heaven Puppy)

"Reece" renamed "Ace" by Annell


Adopted and moved to Ark to be Annell's new little buddy boy, Doesn't he look happy!

New Mommie Bonnie came from Illinois to adopt
Little 'Kassie Su' keeping her name and flying home t meet daddy.Thanks Bro Mike for finding us!

"Keisha" goes home with the Smallwood family
renamed "Sugar" and sweetening this families lives already!

Hayden and Kylie Anne making each other
VERY VERY HAPPY, Thanks mom and dad for the SURPRISE!

"Emmi" gone home with Morgan to be her
special friend in Arkansas

Candi beautiful little female SOLD


Gone to live with Becky and the girls in Arizona.. Her mother is Bailey and she has new puppies

It was love at first site for Janice "Ginger Lade"

Diane brings her Shihtzu Heaven puppy "Missy"


back to se Meemaw and her friend Gay is picking out one for herself

"Timmy" Gone home with Daddy Roy in
an 18 wheeler, Imagine Mom's face when they pulled into Texas.

Lexi and Chloe get together and train puppies


who had more fun, the girls or the puppies, see their video above
These are all sold but thought you might enjoy seeing the colors and sizes.

Teddy Bear adopted by Ty to be his friend
Little Shihtzu Ty very scared in the world, his family adopts Teddy for him and Gabriel to love.

Little Casey adopted by Sherwon


going to Virginia

"Maddie" is picked by Janet and little Mac


going to be Mac's new friend, daddy Aarion missed this visit

Mom introduces "Maddie" to Daddy


He hadn't seen her in several weeks, she's almost ready to go home

GOING HOME.......Lola Louise and Cooper Max


Sharon and Max, going home to Arkansas : born together & staying together

"Penny" renamed "Heidi" by Lexie, Weston and Kathy


Already gone home to Arkansas and already dressed 'princess style'

"Luci" tri color spot female ADOPTED



"Luci" gets a family of her own


moved to Arkansas to entertain MeKayla,Tom and Thelma. Thanks Aunt Pat and Uncle Max for helping

................Aunt Pat and little Max returns to Shihtzu Heaven to help her parents adopt a Shihtzu and it is "Luci".

Penny/Heidi's new family


The Tankersley family in Arkansas

"Rosebud" renamed 'Emmy" adopted already


and gone home with the Soto family in Arkansas, the new princess in their household I'm sure!

"Keifer" tri color spot Male SOLD


Going to live with Cathy and family in Philadelphia

Keifer and Pete get to live together, well seperate houses but same family, will fly together too!
Chloe shows off Ruedy as they play in the puppy
yard. Ruedy is SOLD, gone to Arkansas to live with the Williams family
Cinnamon (a Shihtzu Heaven puppy now living
in California shows pink bows for Meemaw and
"Checking on Meemaw" JoAnn and Buddy come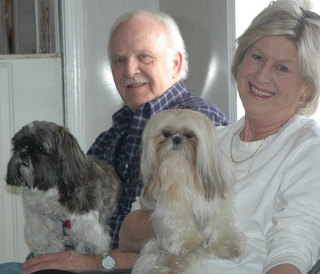 back to bring Scamper and Sabrina to visit meemaw and the puppies, adopted in 2008
Cinnamon & her little girl, Bri, show pink purse
honoring my survival of breast cancer this summer. Thanks Lanita.&Bri. Really sweet & Really cute!
>
puppies 7-21-09
"We are prehousebroke, cage trained: using outside, pp pads, or cage. Understanding Sound commands and other training. All you add is the love!" and continue the training per my instructions.
Breeder Tip: I occassionally get a call about a puppy passing blood, this is very scary and normally we have to take them to the vet BUT before you do, check this out:
1. is there any cat food available to the puppy or dog? move it to higher place not available to puppy
2. is there any cat poop available like a litter box or cats crossing your lawn? clean lawn from any droppings and move litter box to higher ground
3. has the puppy been wormed in the last 10 days? obtain wormer for puppy (you may ask me for suggestions in this area)
4. has your puppy been stressed: this can be from weather or you being gone any change in the puppy's life.

This should save you a vet bill and a sick puppy. Call Me if your puppy is passing blood.
Merry Christmas bells have another purpose
Ask me about the bells?????
Chloe watches as Children choose a puppy
"Which one will ride in the wagon?"
the puppy's serenity prayer.........."Lord, allow me to make someone's life more joyful and full of love and contentment, Amen"
This Page is under construction as I get the puppies ready for their pictures.....keep checking back
These puppies are ready to be your best friend. Socially and environmentally trained to be around children and adults, had shots (Ft Dodge DA2PPV+CVK) at 6 weeks, 8 weeks and 12 weeks, wormed weekly and have had no chemicals used on them, wormed with Drontal plus on day of sale. They are conditioned to use the crate, puppy door and/or pads. Sleeping by themselves all night in their own bed. These puppies have already blessed my life and I know they are going to be of great comfort and joy in your life. Pamela
paypal account available to accept your deposit to hold your favorite. Price does not include shipping add $250. Ship from Tulsa, Oklahoma or pickup at Shihtzu Heaven located in southeast Oklahoma near Stigler