Come see me I do have puppies.. call for appointment or personal montage of available puppies 918-967-4498
puppies below are for your viewing pleasure of seeing past puppies for color and size..the families are already loving these puppies but I have some ready just call or email me
All of these puppies, below this message, have gone to their homes but thought you might enjoy looking at colors and sizes for assistance in comparing your puppies color or previous siblings.....or just enjoy their cuteness.

"Harley Fu Man Chu Jr" blue/white spot SOLD


Perfect little spot male, gorgeous colors, great personality. Come see this one

Lauren is pictured with Litter #7


She says "I don't know which one to tell you to pick" she actually has picked "Ellie"

Litter #7 being modeled by Lauren. Cricket & Cody babies DOB 04-08-12 on Easter morning.. Gold/wh Carter (deposit); B/W Chayse & Chester; Gold/wh Honey & Carina (deposit); chocolate/wh Allie; These puppies are all sold

Not ready yet, but many have already been chosen, parents and puppy shown below..........visitation is fun at Shihtzu Heaven, watch puppy growing get some pics and let meemaw train a little bit.

The Johnson family with their 2nd little Shihtzu


Heaven puppy "LeiLa" still growing & learning...not ready for awhile yet

Patricia picks out her new baby girl, it is Sweet


Pea, and her sister Joann is very much excited about also. Fayetteville, Ark

The kids love this little guy but he is


already adopted by Steves in OKC

Lauren & Ellie AnnaMae


So proud of each other, it was love at first sight.

"Max" gone home with Steve & Steve


Home in OKC, gonna be the lucky do along with FuMan, got to home together

The SHIHTZU Heaven experience, play with the puppies, see their parents, walk all the way through the experience your puppy has been raised in. Feel the love and understand Meemaw's scientific approaches to raising the best little pet you ever had.

Training starts when they are born, hear their story from Meemaw and learn the techniques you will use on your new baby dog to complete his routines.

Pam brings Steve to meet their two new children:


Ryder & Libby or Libby and Willis. Which ones will it be, they'll figure it out

James & Penny picked out their 3rd shihtzu heaven


puppy to go home and meet Jaxon and Grace

"Carter".......and his rename will be "Cooper" says Penny, well this week it is, anyway, it could change again. Penny loves naming her new babies.

Daddy Gene asks 'Molly' "Do you wanna go


home with me?" she gave him a quick kiss, which appeared to be a "Yes"

Diana introduces Mike to their new puppy: Winda


which he named before he even saw her.

Lonnie & Margaret choose Carina


to be their new baby girl... renamed Natasha..

Jeff & Claudia claim their 2nd shihtzu Heaven


puppy, "William" to be going home soon to meet "Gibbsy"

"Winda" is the name chosen by Mike........ & Diana


decided.... while Mike was in the hospital fighting for his life...., the dog's name would be Winda.

Diana came and picked out the puppy and pictures were sent home to Mike & a discussion of names pursued...Mike wasn't feeling well....later that following Monday, Mike basicly dropped dead during a meeting at his work. God put people in the right places and they were able to sustain his life until an ambulance could arrive......the hospital didn't give Diana much hope, his heart attack had been what looked to be fatal, he was on the ventilator & they started to talk to her about taking him off, long story short, he then woke up & made a miraculous recovery...prayer works...& on this day came to see his little "Winda".

Mary & Sherry (mother & daughter) adopting 3little


Shihtzu Heaven babies. 2 for mom and 1 for daughter...Lots of LOVE!

Moma Mary lovin her two little babies:


Cuddles and Molly They are going home together when they are ready

Moma Sherry & her little Lily already bonding


Lily just wants to curl up under her neck this date....but she will be up & movin soon
The Group below are already gone home, watch for color that you like it helps to see what your baby will look like sometimes.
"Heidi" chosen by Louise and Pete,,,she will be


called "Lucy" and will move to Greenwood Ark when she is ready

"She's the one!"



"Wanna go home with us?" Pete likes moma's


choice

Look daddy she matches my coat!



"You are going to have it made at our house


little Coco" her new daddy tells her.

"Katie Did That" and her puppies 2 fem 1 Male


Milli (Foxy Roxy) Matti (Maddy) & Max Bandit All have deposits to hold

Karen and Virgil choose Max Bandit and Maddy


brother and sister, staying to gether and moving to Bella Vista when they are ready

Jennifer and her boys come back to visit 'Millie'


renamed "Foxy Roxy" will be going home to Stigler when she is ready
The group below are all gone to thier new homes but view for color and size on picking your new friend. Enjoy. Meemaw Pam
"Prince William" itty bitty'Bubee' is his nickname


He is the tiniest little thing ever,14 weeks old, had all shots,wormed,so so cute!

Gerey reports proudly that her boys are doing great! Samme weighs 5.1 pounds now and Bubbee weighs 3.9. Beautiful pair of minis, she and Mike are so proud of them, they are their children and rightfully so, Samme and Bubbee knows they are their parents. One big happy family.

Bubee gets his family: Mike, Gerey and Samme


both Shihtzu Heaven puppies gone to OKC. Samme came back for a brother & he is now very happy

Little Cecile Max gone home with Bob & Kathryn


to be their little buddy, going to be friends with the Yorkie "Tator"

Little Jacob gets his new home, Harley, Kathy


and keely going to love this little boy forever.
"Dominic" with Mike and Gerey& Sophie Sue


renamed Sammy Jac and will go home to Bethany when he is ready

all these are sold and gone to new homes

Ginger and Brooke choose "Rickey"


not ready yet but deposit to hold

Floyd and Nancy choose "Buster"


not ready yet but deposit to hold

"The CINDERELLEE Litter" Liver markings SOLD


gorgeous liver hair coats, liver noses and hazel green eyes, blue eyes, very unique and rare

Sarah and her mom, Priscilla, enjoying visiting


with each other at Shihtzu Heaven while Sarah grows and matures.

"Foxi Roxi"Liver/white coat liver nose hazel green


eyesm tiny tiny tiny.......$950 parents are Cinderelle/Willy DOB 03-9-12

Foxi Roxi gets her family, mom and dad and a


shihtzu sister named Little K-also a Shihtzu Heaven girl , Lucky girls...moved to Texas.

"Laine" going to Massachusetts to meet his new


mommy Donna, aunt kim and Grm Loraine, which he is named after....

"Hootie" and his family


Moma Jessi

"Hootie" and his family


GrtGrMa;GrMa & Uncle Gordon; Hootie & Moma.....Hootie is th 4th Shihtzu Heaven puppy for this family

"Hootie" and his family


Dad, Mom and Hootie

GrMa meets Hootie


I think he's a hit with her.....Jessica looks on...the proud mommy.

The Redstone family chose "Gracie"


and are getting ready for her to come home, won't be long now!

The Hamilton family choose "Chuckie"


and are getting ready for him to come home, won't be long now!

Grma Edith and Mona choose Melody "Elyse" N My


Heart, named after Mona's sister, Melody, in Heaven, deposit holding
Daddy Scott and Gma Marty have Haiden on hold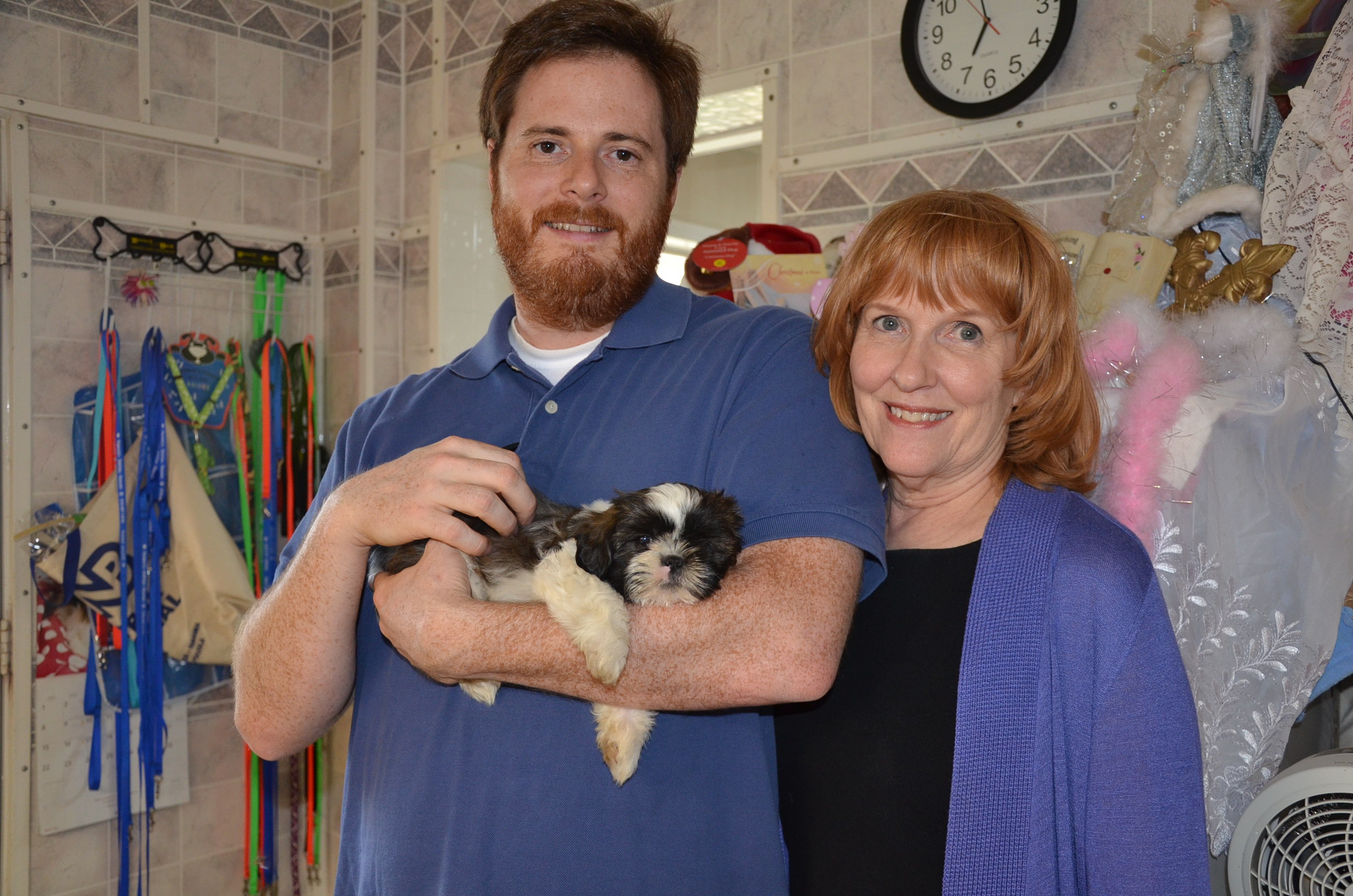 be going home to Jenks when he is ready
Andrea and children have chosen "Henry"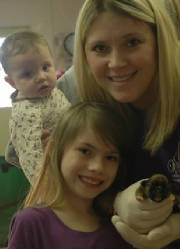 renamed 'Sawyer'
A visit from moma, Andrea, with "Henry" renamed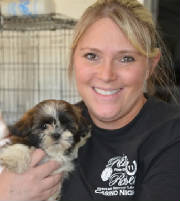 Sawyer and going home soon.
"Little Harli Anne" renamed Gracie Ann by new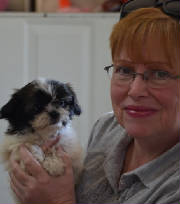 mommie: Elizabeth and daddy Sam
See Daddy how cute I am......waiting in the truck,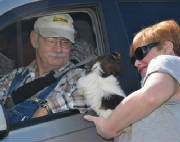 Daddy Sam gets a glimpse of his newest baby girl: Gracie Ann. She is going t be a traveling dog!
This group below has gone to their new homes, enjoy their pictures for color reference to puppies in the nursery. The liver genetics and markings show up on these puppies.

"GORDON" chose by Monica and moved to Arkansas


Gordon is now th special angel @ th Guenette household they hav 3 generations of shihtzus frm S Heav

"Luci Gentry" is stepping high and prancy


she is the princess, easily spoiled, she will be going home to Tulsa when she is ready

Mommy is in love with this little girl "Luci"


picked very young, mommy is waiting patiently til the big day she can come home to Tulsa

"Luci" getting love from mom and dad


it won't be much longer now, they have waited a long time for this little girl to grow

"Francie Newman" the Diva of the litter. she is in


charge at all times, now the rest may not know it, but she thinks so! she is going to Ark

A mother's love, waiting to take her home


Chosen as soon as she was born, momma Mary Kay is anxious to get this little girl home.

"Francie" meeting her big sister "Sasha"


Another Shihtzu Heaven puppy gets a sister. Mary Kay introduces them.. Sasha IS NOT IMPRESSED!

"and this is Grandmother, she lives next door and


you can run back and forth from our house to hers in your own yard" MaryKay tells Francie

02-05-10 these babies loved the snow, it was a


warm day, the snow was melting and fun was had by all......

This group has all gone to their new homes


Thank you guys for adopting Shihtzu Heaven Puppies

"Precia" renamed Lily and gone home to


Hartshorne to be the Princess at the Wilkett Home.

Happy Birthday Greg says his wife Diane as they


decide on adopting little Ryder. Diane got the little boy she wanted and Greg got a little buddy!

Ryder and his new family


Mom and Dad will take him back to Broken arrow when he is ready

Back for visitation with "Ryder" parents:Greg &


Diane tell him about th blankie & toy they brought him t sleep with,it smells like thm, he luvs it!

Our Jan 10th snow storm in Oklahoma, we got about 8 inches, the puppies only got to go out for bits at a time, so as it finally melted they were ready to get out and play, this was the end of it.

Puppies and SNOW! having a good time as the


warm Oklahoma sun starts melting away. I let them play for just a bit, what fun they had!
Sometimes choices just can't be made and puppies go home in twos and threes:
The pictures below are puppies that are already in their new homes but you can see colors and shapes and sizes...see 'adoption day' for other pictures of babies already adopted.
OK, we'll just take both of them: Pebbles and Bam Bam going home to Kansas

Pebbles and Bam Bam meets their new family


Channity, Mercedez, Kennth and waiting at home in Kansas is daddy, Tommy.

Printz and Tucker are chosen by Jeremiah &


Sanaz and yes, they are brothers going home together to Tulsa

"TWINS" have to stay together: CoCo & Hershey


gone home with Jill, Madison and Emmy, keeping those boys together in OKC

Christi brings bk help t make her choice & it is:
Miss Mia, very happy with her now mommy, aunt and neice

SURPRISE! While Moma Jennifer is in Daycare


picking out Maci Graci, daughters: Jessica & Julianna r picking out Diviya in Headstart, yep, BOTH

Moma Beth falls IN LOVE with "Harley" but


daughter, Bethany, has come after "Ginger Snap" BOTH, it is! going home to OKC

Peanut & Popcorn come back to Shihtzu Heaven


to choose a sister for parents: Marvin and Kathy Her name is "Cotton Candy"

Cami and Michelle are a long ways from Kansas


fell in love with two and Felix and Stewart are brothers going home together.
| | | |
| --- | --- | --- |
| | SPECIAL cages also available (fully decorated to look nice in your home) and full of smells from here that your puppy will identify with and be right at home the first night in your home......$100; $150; or $200 (wicker). | |
| | | |
| | | |