"Come on Willy, Push harder, we're not moving"!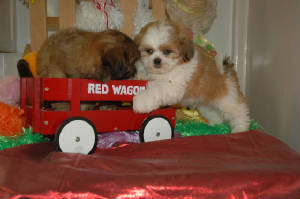 The Most Well-Rounded ADOPTION experience you've ever had....................
PAMELA'S SHIH-TZU HEAVEN
presents the perfect companion because " I "
RAISE THEM WITH LOVE AND BREED THEM FOR QUALITY
My puppies are created because of my Love for the Shihtzu breed and to provide you and your family with the most loving pet God has put on this earth. I raise only Shihtzus and have for 25 years. They are loved and trained by me ( and my seven year old assistant) from their first breath...........