Visitors to Shihtzu Heaven, puppies coming home to see meemaw & pictures of your puppies you send me.
.

"Sydney Breeze" poses during his visit with Meemaw


He is his parents pride and joy but not spoiled one bit!

Dad and "Sydney" and Mom come back to


Shihtzu Heaven for a Meemaw visit, isn't he beautiful! a little gentleman

NOTE: The Breezes were referred to Shihtzu Heaven by Pat at "Touch of Heaven" boarding Kennel in Alma, Ark.
who talked with their children, Ryan and April. Thanks to ALL of you who made this adoption happen. Match made
in Heaven......2 heavens. Thanks from meemaw

Raina and friends from Bentonville come to visit


Raina is definitely coming back in January to get her a puppy she says

Marvin and Kathy come to visit Meemaw,


pick up some feed and show off their kids: Popcorn, Peanut & Cotton Candy. Beautiful SHeavn doggies

Carole and Bart came all the way from Owasso


to play with the puppies, all these are sold, they will wait for the next group

"Muffin's the MOST perfect dog ever" says the


Hopwoods who came back to Shihtzu Heaven to show Meemaw how great she is

Chuck & Pam visit S Heav to show off their lovely


pair of shihtzus, telling Meemaw to be proud of these guys! yep their perfect TOO!

"People you can't believe how hard it is to come


pick one of these little ones, they look at you and want to all go with you, I picked Bob, " John

Sassy J and Gizmoe
I am home now, Pam, enjoying my babies every day now and I love it! Rita

I still go on your site and look at your new babies. Both dogs get along well, they love each other. Sassy J is a sweet, fiesty, loving little girl, I made a good decision getting her, she adds so much to both Gizz and my life. I love to watch them play. They chase each other and wrestle. Then sometimes they go to their own spot for a nap and sometimes they just lay down right where they were playing. smile. Rita in Tennessee

"Emmy" the wait was worth it! says mom & dad
Pam you told us when we picked her very young, that the wait be worth it, she is!

Here is a picture of our new baby, "Myra"


I brought her home and trimmed her eyes and she sat there like a 'big girl'.She loves Zach &Dexter

10 years ago "Sarge" left Pamela's Puppies to live
with Peggy and David, he came back today to get his new sister. Sarge represents his name well.

Sarge works as a 'greeter' at Peak's Place in Muskogee, Oklahoma, drop in and tell him Hello

"Lovin the play yard and crate, so glad I got both, Jasmine loves her area and is doing perfect in her training, no problems and no accidents, We are just doing wonderful, Thank you Meemaw, considering the 2nd puppy now! This is too easy! " Jenn

Pete and Louise come back to visit Heidi (lucy) an


bring the kids to meet their sister: but now there are two sisters going home with them

Grandpa comes to visit Shihtzu Heaven with Carli


and "Ginger". Ginger knows how to 'kiss up' to Grpa & he loves it!

S Heaven & GINGER get the stamp of approval


from the grandmother's in the Lay family. Ginger has joined them in Wilburton, Ok

Karen and Pete come back to S Heaven and bring


Gracie for a visit with Meemaw, what a beautiful little girl.& Karen has hair again! YEAH!

Terry,Emma,Delaney &Avery all pick a puppy


which one went home with them? they got it down to 2: Scotty & Reese

Sylvi in Texas says that her two puppies: Bella and Bow, are just like they have always been here. Never had any problems with the flight, the ride home, their settling in time. The playyard and crate Pam helped me set up was perfect, they went right into their bed and took a little nap first thing, then later they played with their toys, went outside and did their business, they are PERFECT!

"Puff Daddy" is the best dog in this world, never be another one like him, brags his father who came back to visit Shihtzu Heaven with his neice who is buying another puppy after her uncle took Puff Daddy away from her. she will be going home with a puppy but not sure which one yet, Grma may get one also.

Lexie, adopted her little Heidi months ago but she


and her family love to come back and play with the new babies and help me train.. Thanks Lexie

"MOM! This is HEAVEN," Mairi screams as she


loves from one puppy to another, "I want to stay here forever!"

Pamela if I could talk to your potential customers, this is what I would say:Meemaw we want to thank you for all your help and professionalism from the very first email contact to the day we picked her to bring her home. Emmy is so much fun and a very smart little girl. The transition of bringing her home was an easy one. She just fits right into our family and is a real blessing to us. We had to tell you that we love her so much and it has truly been our pleasure to become part of your family. God Bless you and all your precious babies. Darrel and Cindy in Oklahoma

"Colorado Oreo" in his King seat in the truck
Loves to ride, loves the SNOW! "We are so happy with him"

Miss Sophie



Miss Sophie & Dad



"Muffin" comes back to SH to say hello to Meemaw


&brings her moma&daddy Hopwood.It is fun t see old friends&babies all grown up.Muffy is th Princess!

The Estrada family come back to visit and play


with all the puppies, Meemaw, helped with grooming ALL that hair on Romeo

Vince and Kim came to visit


Vince had many questions and was very entertained by the puppies

Pat and Maxwell came to visit meemaw and all the


puppies. Maxwell was wearing his Arkansas Razorback visor as usual, loved his visit

The Estrada family loves to come to Shihtzu


Heaven, they have two of my puppies and bring relatives out every chance they get......Mr. E says he

is bringing the charcoal grill and some steaks next time he comes out, I think he loves the clean fresh air at Shihtzu Heaven and my rock bottom shade. Not to mention loving the puppies and the children having such fun with them all. It's peaceful and entertaining at Shihtzu Heaven.

The Deerinwater family bring daddy to see the


puppies. Moma and the girls are ready but they are going to have to work on that daddy!

Maxwell Meek sends Meemaw a picture of his new


snow booties, not sure he is proud of them but got used to them, Moma Pat says. Loves his hat always

HELLO Pam! We are doing GREAT! he is such a mess


we love him to pieces......everywhere we go people flock around him cause he is so dag gum cute!

laid back and will just 'go with the flow'. You were right he has the other baby going in and out the doggie door now! bless his little heart! I let your cards at the vet and Petco and tell everyone I know about Shihtzu Heaven, maybe we'll find homes for all the rest of the babies too.... I hope you have a great Mother's Day you deserve after all these babies youve birthed. Thanks Pam, Romeo has won our hearts.....Dorinda

Everyone in the family has a shihtzu now!



Pam, Max (the bell ringer) and Molly

The Bells REALLY work! Pam and Fred in Okla share the love....."I was washing dishes,Fred in his chair with his lap full so we were in a position to just watch this unfold instead of being part of it....Max ran over to the tree in the grand room and pooped, then...with his tail pointed up and head held high, strutted over to the back door, rang the bells....then looked at my husband, as if to say....look what I did.! *@#! We love him and Molly so much, my husband says he would go back into a house fire to save them. .Thanks for our babies.

Bella Matheny & the boys


SHe is doing really well, adjusting, pooping outside, Just a Perfect angel, we love her.

Bella Matheny



Christmas 2007, Marty adopted Sophie and presented her to his wife, Judy. Now Christmas 2008 their son Brent and Tiffany returned to Shihtzu Heaven to adopt their own baby girl, Bella.
A couple of months ago, this little shihtzu pup (CHLOE) disappeared from this family in a split second. They were devestated and looked high and low for her, putting up posters, talking to people, searching and searching and searching. After months of no leads they still did not give up on her. When she called me to tell about this I too, was just sick for them. Assisting her with information on checking with local groomers, vets, police, animal control, she put up posters and did everything she could possibly do to find her but nothing was happening. This was not a town they were familiar with as they are a traveling family with his job moving them from town to town and they knew shortly they would have to move on with or without this little Chloe, the love of her daughter's life. I reminded her that Chloe has the identity chip in her and what her number was just in case they had to identify her.

The break came on Thanksgiving Day. A phone call, the location of the puppy, she had been seen during the Thanksgiving festivities at the caller's relatives house and then the caller went beyond the call of duty to help in getting this puppy back. Well, long story, short, they got animal control to go the house and scan her for the chip which positively identified this puppy as Chloe, they got their puppy back. Merry Christmas to the Lee family and to Chloe, glad you are back home safe and sound.
The rescue team who helped get Chloe back home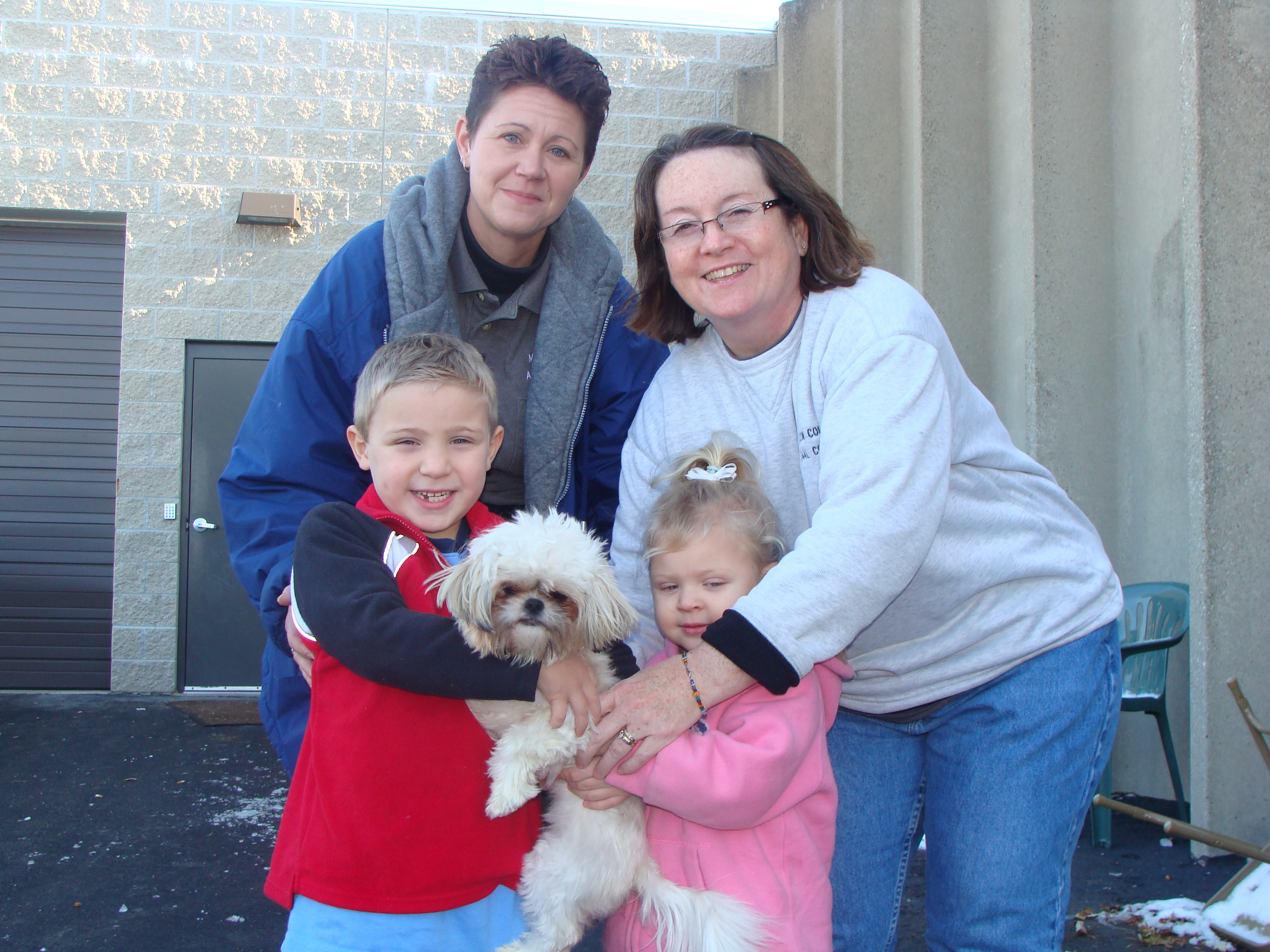 Thanks guys! Well done
Customer reviews and happy puppies in their new homes


one of the greatest joys of our life! You raise the best, we recommend u all the time. Shannon/Jamey
Nugget is the apple of my eye. I just love him to death. He is so sweet and loveable. Nugget was worth the trip from Oklahoma. Love to all Sue
Hello Pam: I am April and my husband, Jeff, and I bought two of your puppies, Zoey first then later we came back and bought Barkly. Just wanted to let you know they are both doing great and I love them more than anything in the world. You are one of the best breeders I have ever met. When I first got Barkly I had some problems and you talked me through it over the phone. I really appreciate all the hard work you put into making your puppies great for their new families. My sister works for a Vet and she says people come in with your dogs all the time, she says she can tell the difference in your dogs and other breeder's dogs. I thought it was just the breed but she says it is the way you raise them and train them when they are small. I am ready for another one but Jeff says no. One of these days I want one just like Maxwell (current puppy purchased by the Meek family). Well thanks for all the help you gave me and most of all thanks for the two best things in my life: Zoey and Barkly. April and Jeff
We got our baby 'Molly' in 1999, she has been
the best, see picture above with bunny ears.
Hello wondering if you have any young dogs that have been returned. I am Emmy and Oscar's aunt. You would not believe how much joy they bring Deniece and John........Vanessa
Then you blessed us with Honey. We Love Her
Quiet Personality, She is perfect for us.
Little Harley Making "Pretty" with new haircut
"I HATE HALLOWEEN" the things a dog's gotta do!*#
"BUZZ BUZZ BUZZ!"
Honeybear smiling pretty with her new hair cut
friends forever
Muffin Hopwood and neice
Miss Zoey...........where is that pretty bow?
loving the grass/yard/ outside is wonderfully fun
Colby and girlfriend--Happily Ever After it seems
The Smith family with Timmy Preston home in Texas
He slept all night the first night, he is perfect! Connie,Roy, Ebony & Eddie
LATER: Just wanted to say we love the videos you are putting on your website now, Love to watch them it brings back memories of when we picked up Timmy Preston. We sure do love you for the blessings we have with Preston, I thank God for you and your love for the puppies. He is the Joy of my life, I REALLY REALLY love him.

We are going to love the new puppy, Tob, just as much, can't wait to get him. Connie
O M Gosh Pamela! We love her so much! You were
right about her adoring her daddy! She didn't even use the bathroom in her cage. We feel so blessd
BELLA is doing wonderful with the training...She cried a little the first night.. Thank you so much! We feel so blessed having her! Nick and Michelle in Arkansas
OH MY GOSH! We love this baby so much it is unreal. I don't know what we did without her.
Sherry in Arkansas

Thanks so much for all the training you gave us when we came to get Adeline, it has all worked perfectly, she is completly housetrained and listens to everything we tell her, honestly! She is so smart, all our friends and family want one just like her. Sam and Sonia in Missouri
WE LOVE THIS BABY BOY and can't wait to gt SABRINA
He has made every step JOANN makes loves us both, we r so happy w/him. Going oustide doing GREAT!
He walks with us, plays in the yard and does everything. We love him and we can't wait to get back and get our little girl: Piper-Sabrina.
Clifford & Joann in Ark

PS: He is a hit down at the bowling alley, actually, he is a hit everywhere I take him. Clifford