puppies 11-23-08.wmv
(VIDEO ABOVE) Headstart and Day care on visitation day, having a blast, see if you can find your puppy?
This video is of the puppies in Day care, learning to be without mom during the day and then she returns at night, They learn to use the puppy door, be part of the social pack and go outside to tee tee and poopy. They are learning sound training and touch from Meemaw (the pack leader) this training will then be transferred to you as you become pack leader to your new puppy. THey range in age of 6 weeks to 7 1/2 weeks, then they move into Headstart to be completely weaned and learn independence so they can be adopted to their new homes. This is based on size and maturity of the individual puppy......
Pam and Chuck bring the children to see Meemaw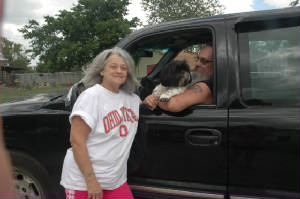 Another happy family from Shihtzu Heaven
Maxwell (showing off his little Razorback visor)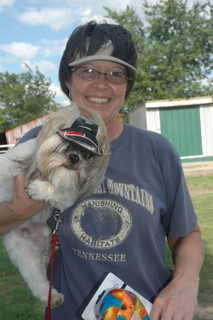 and Pat come to check on Meemaw. Maxwell and Bells had great fun in the shade
THERE IS ALWAYS plenty of play time for you to pick out just the right puppy. It is not unusual for other customers and/or visitors to help you out with a little inside information. smile. We all have a great time on adoption/visitation days. Call for your appointment: 918-967-4498
Sarge visits Shihtzu Heaven and picks a sister
"Yea, I dressed up for the BIG Day, HO HO HO, humbug!
Grandma Martha even comes to visit
New Mama, Pam introduces Molly to Grandma
Joyce and granddaughter visit Shihtzu Heaven