Merry Christmas bells have another use, ask me!

Bye Bye, Puppies love to watch customers come & go
"Which one did you guys pick?" they seem to be saying
Another fun day at Shihtzu Heaven
Families wave good bye to the puppies and meemaw
CHLOE my little helper, teaches the dogs to ride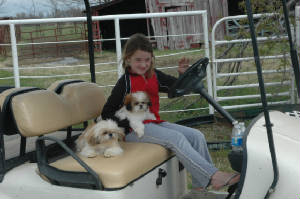 Most of you have met or wil meet Chloe at Shihtzu Heaven, she is my trainer, parking attendant, etc
"The adoption experience" @ Shihtzu Heaven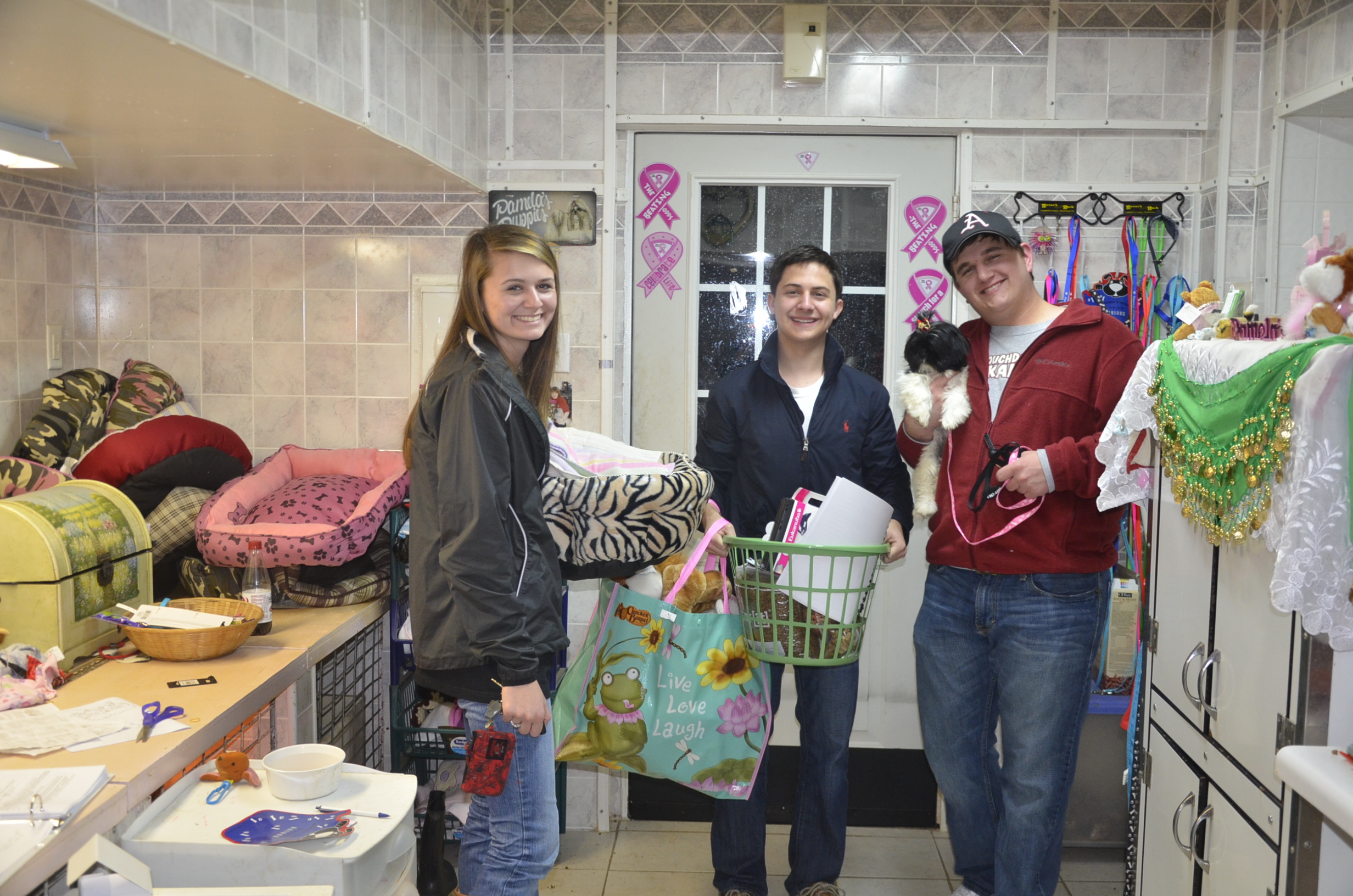 the stuff that comes home with your new puppy will help it settle into it's new home wonderfully
How we leave at Shihtzu Heaven is very important.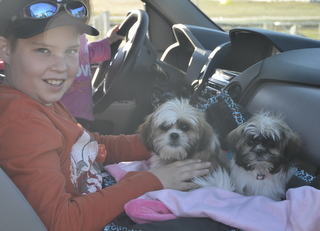 Always put your puppy in the front seat til it is use to riding in a car.
"Lit'l Buster" renamed Patches by Lucia has


gone to Utah to be best friends with shihtzu sister,Pulare,they r nseperable she says. All is great!

Jackie and her little girl, Nadia, have taken home


their new baby boy "Little Boo" renamed "Brody" he is fitting in really good she says.

Connie and her baby boy, Cricket, pick up "Boogar"


for her mom in Kansas, Mommy Vi has named him "Daniel & will call him Danny" they are doing great!

Daddy David came to pickup little "Eddy" he is


going home to Ft Smith to meet his new little girl:Gracie her long/awaited Christmas present.

Gracie and her whole family came&picked out Eddy


when he was a tiny baby, she knew she would wait on him to grow big,but still a surprise arrival

"Zak Max" chosen and going home to Rogers, Ark


with the Briese family... .Riley & Cooper waiting at home..Cooper is a 2010 SHeaven puppy

"Duncan" & Conner are going home TOGETHER


Don't know who was more excited. Grma & Michelle were pretty excited,Pockets? not so much!

"Chloe" going home and shares her bed with new


Sissy "Trina". Trina is so so happy to have a sissy, aren't they cute?!

Leah finally gets to take "Chloe" home she waited


the long wait for her to grow and be trained.

James Neva "Suzii" and Michelle are ready to


head home to OKC

Neva & "Suzii" say goodbye to my little


puppy trainer, Chloe.....as they are leaving Shihtzu Heaven

Laura and Lindsey come after their new baby girl


"Macy" moved to Broken Arrow Oklahoma to meet Rick, Courtney, Molly and Morgan

Lauren and Macy already bonding as they head


home for their new life together

"Ralphie" chosen by Jessica,Brad,Jace&Taylor


gone home to Greenwood,Ark to meet other brother, Austin. big happy family

"Tilly & Dandy"are excited to get their new family


Michelle,Mark, Emma and Jack from Norman Oklahoma

Jim and Norma choose 'Lahna' renamed "Sophi"


moved to Ft Smith, Ark to be the princess.

My summer litters all gone home & doing great. Parents report they are the perfectly trained puppies we all dream of. that makes me REALLY happy. You guys are doing AWESOME!

"Kirby" renamed Buddy is th newest light n Susan's


eyes,but daddyJohnny put tht twinkle there by getting Buddy for her.One big happy family n EdmondOk

The Boudreaux family taking "Rosey" home, the


wait is finally over and Rosey is going to be happy in her new home n Greenbrier, Ark

Ashlyn is so happy to be picking up Rosey today


gone home to Arkansas to be her best friend in this world

Hello Shihtzu Heaven families....new and old...many of you have written to me or called about your "PERFECT PUPPY" and asked me to keep raising puppies so you can get more...so for you I will do so...however i am cutting back on the numbers so you will need to perhaps purchase your puppies as soon as you see I have what you want as I won't have the numbers of puppies I have had in the past and they will all probably be sold before they reach the 'ready to go' stage. Hopefully I can raise a few puppies and still have time to follow my Chloe & have some fun with her. Thanks guys, your all truly awesome friends and family and I love you everyone!

Willis going home with Momma Pam to meet


Shihtzu bro-Wicket. Pam reports they are doing great together. Grma is pretty happy w Willis also

After you choose a puppy at Shihtzu Heaven then


you choose a bed, LeiLa Ginger, thinks her mother made a GREAT CHOICE!

"LeiLe" renamed Ginger and gone home to Stigler


ok to be with Judy and Henry.....their home is full of love & entertainment Now!

Judy says I have to tell you guys how smart these little dogs are, I know that most of you know that but she is so elated, after having dogs all her life, she can't believe she can walk 10 steps snap her finger and say P and she does it! and of course all the other stuff Lei Le knows is just amazing. her husband can't believe it either!

Sherry and "Lilly" head home to EufaulaOK to begin


their new life together. Both are pretty excited......

"CoCo" leaves for Tulsa, Ok with her new momma:


Cathy & her aunt.CoCo was pretty proud of Cathy,kisses galore!@home is daddyFrank&"Luci"SH puppy2011

Lauren & "EllieMaelynn" going home to Ark


these girls going to be best friends........Lauren LOVES to pose with Ellie.....

"Miss Ellie" Julie, Lauren and Allen


Ellie's new family take her home to Arkansas, perfect fit for their HH, Ellie doing wonderful!

Chris & Georgeann adopt their first child together


it is "Chester" who loved them at first sight, kisses were flowing

Chester is doing fine his mom tells me, fit right in from the first moment home: he was greeted by his 12 year old brother, Buddy, a shihtzu heaven puppy also.

Harley FuMan Chu Jr & Coco's Max a Million


chosen by Steve & Steve ....to be their best friends...gone home to OKC

Winda and her new pack....


"Winda (the new puppy); Daisy, Gigi & Rosie gone home to Arkansas

Diana & Mike and their four girls:


"Winda (the new puppy); Daisy, Gigi & Rosie They love Shihtzu Heaven puppies

The Clark family fromTexas picking up their little


"Tulip" they have waited on for a LONG time..she is finally ready for her trip home

"Hello little Doggy friend", says Myrtle "wanta


go home w/us?Don't be afraid I'm ur friend"Tulip is not so sure but n 24 hrs they r big buds now!

Bonding at Shihtzu Heaven before starting home....CoCo is not REAL impressed with the new puppy...but Max is a very patient little guy and he wins her over pretty quickly.

"Eli Maxwell" meets his new sister "CoCo" & they


r home n Rogers Ark with new fam:Paul, Becky, Taylor, McKenzie and Sydney

Ryan & Kaley pick out their first child: "Dahlia"


she is now named "Paisley". first dog but Meemaw is here for them. they will do fine

Uncle Ty is also really proud of little Paisley .


He is the 'godfather' says his new parents:Ryan & Kayla

The Lee family from Centerton Ark add two new


additions to the family: "Wendi now "Lola" & Sashi"

"Waldon" renamed "Zeke" heads home to Alma


Ark with Jason and Julie to meet the REST of the family...fun is waiting at home for Zeke.

"Susie Q" happy with her new family in Arkansas



Sylvia , Bob, and Marcy were New Year's Eve Guests @ Shihtzu Heaven to get their new babies. Happy New year to
all of my families.

Sylvia and "Pansy" friends at first sight, picked


out each other and held on for dear life. Gone home to Alma, Ark

Sylvia is so happy with her 'perfect' shihtzu that she is telling all of you to come see me! She says she is the absolute smartest most perfect shihtzu she has ever had and she said that is saying alot because her last one she loved for 11 years and didn't think she would EVER love again, but blessings come and God renews our spirit and Sylvia says "PANSY is the light of my life Thank you Meemaw" and I say, "thank you" to Sylvia and ALL of you that have put your trust in me and my dogs & also refer your family and friends to me daily.

Marcy, Bob and Scarlet gone home to Alma Ark


to meet her new Shihtzu Sister...hope it is a happy reunion

"Petey"now is making Erica very very happy,he was


her surprise Christmas present from Devin.He&buddies: Kyle,Shawn,Kevin pked him up&bk t Tahlequ Ok

Christmas Eve family takes home Sterling....

"Sterling" and his new family @ home n Broken A,Ok


Amanda, Sarah, Hannah, Kaylee what a beautiful family...how much fun they are having!

Mom is so proud of her little baby boy, he is


already th light in her eyes.Spencer was pretty happy too!Thanks Sister:April for setting this up!

Spencer is going to be the baby at the Breeze HH


gone home with Paul and Dottie to be their baby boy in Van Buren Ark

A shout out to "Heavenly Touch Boarding" in Alma, Ark who referred this family to me through son, Ryan and daughter, April. Thanks to ALL of you who made this blessing happen for Mom and Dad & Spencer.

Jennifer & her family select "Chyna Lade" she is


a beautiful black with white markings/gone home to Ft Smith Ark

SURPRISE & MERRY CHRISTMAS Taylor told his


wife when they arrived at Shihtzu Heaven! Melanie was pretty surprised..then she picked two!

Melanie couldn't choose, Soooooooooo Taylor


just bought her both of them: Ranger and Cee Cee (now Lily) adopted together

Paisley & Hunter were pretty surprised when daddy


arrived with their little Christmas Present "Pepper Grace".Thanks daddy Shawn & moma Jamie.

Mandy waited,she prayed,finally Jamie said OK


Today she got her baby girl, Poppy Grace, now "Gracie" Joy rising!

Jamie is Mandy's favorite person tonight,well next


to Meemaw who had the PERFECT puppy for Jamie to give her for Christmas! Congrats guys, enjoy!

"Penelope" showing she is a brave little girl


she is flying to New Jersey to meet her Kristina mommy and Margherita Grma.Excitement is in the air!

"Scout" chosen by Jim and has moved


home to Sallisaw Oklahoma. He and Jim are already buddies and going to keep each other company.

Janet and Aarion come back to S Heaven for their


third shihtzu child: Mac and Maddie adopted in 2009

Aarion is pictured with his little girl, he plans


to have her love him more than mom, going to be his sweet "Matae"

Renamed "Piper" Janet and Aarion say she is just like she has always been with them, fitting in so well it is unbelievable. THanks


Muffin is chosen by this family and is going to


live in Ft Smith, she is one of my older ladies retiring to be the main dog in this family...fun fun

The Estrada family comes to visit often, has two


of my S Heaven puppies and brings relatives to get their very own dog, this group took home Muffy

Emory Annie renamed Elizabeth by her new


parents: Jennifer and Phillip. She is the perfect little girl for them.

Jennifer came looking for a puppy and she found


her new girlfriend. So excited she just couldn't put her down, lots of fun coming for these two!

Harley, Kathy and Keely choose "Jacob" to be their


new best friend. Keely is already getting used to holding Jacob.

"Cole" gets his family....going to Ark


chosen by Pam but Tyler, Kendal and Carl was pretty happy with him too!

"Harley" gets picked by an Oklahoma family


gone home with Cody to meet his new family,. will even have a doggy friend named Gizmo.Fun for all

The Ea family in Tulsa finally decide on"Juliette"


telling me they will be back for another one, maybe gold.

Hannah, Heather and Maggie (SH puppy) come


back after another one and JJ (renamed Pepper)gets picked. Staying in Oklahoma

Carol is so proud of her little Saidi, Ron is


pretty happy too! Staying in Oklahoma

"L Bear-Duke"gone home to Ark with Marylan & Rick


going t b Rick's new best friend. niece Dee will help&thks t Cousin Diane&Missy 4 bringing them

"Missy" is a SHeaven puppy and has sent or brought many people to Shihtzu Heaven to buy their new puppy. Her mother Diane keeps her in full coat and they go everywhere together. I often hear of this beautiful blonde pair of girls in Ft Smith: It is Diane and Missy. Thanks girls for your confidence in me to send/bring your friends and family to Shihtzu Heaven.


"Buster" and "Kashe-Brownie" go home to Ft Smith


their mom and dad: Nancy and Floyd are extremely excited to have two new babies in the house!

"Hootie:" goes home w/momma Jessica &


daddy Mark: already bonding...Jess picked him at 4 days old/came t seem him every 2 weeks.lucky boy!

"Fara Fawn Lu' " chosen by Kaci & gone home to


Eufaula Ok. helpers are daughter Meadow & Sister Emily who hopes to get her own shihtzu SOON!

"Laine" flew t Massachusettes t meet his new pack


Donna, aunt Kim and Grama Loraine, named after Grandma. perfect flight!

Heather chooses little "Rose Ginga" she is moving


down the road to McCurtain, Heather's new little angel to light up her world.

"Elizabeth" renamed "Pippa" a little princess she


is, chosen and gone home to Joplin, Missouri with Donna & Michael adding joy to their lives!

"Lit'l Boy Blue and Andrew" grown up together &


staying together. Home in Eufaula, Ok with Shayla, Galen & Jayna. gonna b lots of luv @ their house

"Samuel" is Elizabeth & Mike's new baby boy


He was pretty happy to be in his new bed going home with his pink bunny from Sister, Sissi.

We do a lot of playing at Shihtzu Heaven while we are training each day. It always includes smells and tastes and sounds. Stuffed animals and our toys are very important learning tools. "Samuel and his sister, "Sissi" and sister "Sara" were very close as they were the smallest in their litter. "Sara" left first so then Sissi and Samuel became even closer, slept together as they weaned from their mom, then slept next to each other as they got ready for their new homes. "Sissi" left second just a few days before "Samuel", I forgot to put Sissi's pink bunny in her stuff as she had several that she liked and slept with, so when I went in to get Samuel's take home toys I grabbed the pink bunny to put in the mix for him to pick through, he picked the pink bunny (of course it smelled like Sissi) took it over and got into his new bed and looked up at us like "Ok, I'm ready to go". Just one of those fun fun stories. I should write a book you all tell me, but pray tell when I would have the time. lol I have to love and train and raise my puppies. Meemaw Pam

"Sissi" renamed Gracie by new mommy, Penny,


this Happy Shihtzu Family has more love to give, kids are grown, Penny&James have found new LOVE!

Fabula JoLee is chosen by Kim and Kirby


going home to Broken Arrow to meet new sister, Mattie, one big happy family.

Fabula JoLee meets new mommy, Kimberly


and the connection was made! Happy tails were wagging

"Elektra" goes home with Collin & Jacqueline


to Bartlesville, Ok . Their first child, she is going to bring more love to this family.

Scott chooses "Haiden" renamed "Tigger"


headed home for Jenks, Scotts life is filled with joy with this little guy to brighten his world!

GrMa Marty and her princess, "Harley" come with


Scott to pick up "Tigger". One big Happy Family now! Aunt Harley was glad to have a friend.

Greg and Diane take home little Ryder


Their lives will never be boring or lonely now, he is their little prince

"Francie" gone home with Mary Kay


she says this is her baby girl "ONLY" no one else can bond w/ her so she came alone. so far so good!

All the way from Drumright t get their 2nd Shihtzu


Heaven Puppy: the Robertson family waited a long time for Chloe Claire Bear, the wait is over!

"Misty Moon" chosen by the Estrado family


has moved to Arkansas to be the little princess companion to these four girls, mom and dad.

IT'S A BOY! Congratulations Rhett & Elizabeth


Their first child....how excited they are...and rightfully so.. "Dandy" renamed 'Roman' is perfect!

Sylvi and Roy were waiting in Houston Tx for Bella


and Bow to arrive and OH what FUN they have had! Lucky dogs/Lucky People. Match made in Heaven again

"Bella and Bow" flew to Houston to meet up with


their new mommy and daddy. all is going well...waiting for family picture

"MaLa Lei" or "Martiin" Sam & Anjanette have to


sleep on this decision. which one was it......look below

"Martiin" now Murry is the lucky dog, chosen by


Anjanette and Sam, won't be far from Meemaw in Stigler

"Snooki" chosen by Garland and Donna


gone home to Heavner to meet new bff, Maddison

"Sofia" and new mommie Kirby


gone home to OKC to meet Yorkie Sister, Lexie.

"Printz" chosen by Jeremiah & "Tucker" by Sanaz


Now they are brothers, adopted as brothers, staying together in Oklahoma, thanks..so sweet!

Moma Nini and Bro Dylan came to Shihtzu Heaven


and chose little Snowflake but he wasn't ready so planning to return to get him, see pic below:

then Father Tony and Uncle James sneaked around


and came and got him the day before & surprised Nini and Dylan. FUN FUN FUN! All are doing fine!

Grma Beth and Harley and Moma Bethany come


back to pick up little Ginger Snap, gone home to OKC

"Lily" finally gets to go home, chosen when she ws


a tiny puppy, waiting patiently for her to grown. Ainsley, Kyla, Derek and Parker take her home tod

"A man & his dog" Matt is pretty happy w/Lei La


going t Ark t meet Moma Carol & Shihtzu Heaven sister: Saidi. Lei La is pretty happy too!

"JJ" now has a Meemaw Pam and a Mama Pam


gone home t Arkansas t b Pam's best friend, brother t Yorkie sister: Emma & loved by Aunt Charltte

"Harley" gone home with Beth and Bethany


Going to be the MAN Of the house, they'll be back to get "Gingersnap" when she is ready

Gracieadopted by Carry and Mike renamed Maggie Mae


staying in Oklahoma to be Carry's special baby girl

"Hunter" gone home with Amber and Rylee


moved to Arkansas to complete this family. Going to stop & meet Gma Chris, won't she be happy

"Sh Daisy" and "Tobie" chosen by Margie & John


and Grant, Preston and Grace Ann. Staying together in Oklahoma with their new family.

"JJ" and "Snickers" adopted together


joining the family of Matt, Annie, Drew, Grant & Paige, and moving to Arkansas

HAPPY ANNIVERSARY
aahhhh! the pitter-patter of little feet once again!

"Miley" th anniversary present for Debbie & Ben


gone home to meet Hayden, Kenzie, Skylor and Jordan and Shihtzu sister, Sassie. Congratulations!

"Mandi" chosen by Lucy to be her and Rusty's new


friend. Aunt Gayla & son, Zachery were great support in picking Mandi out. Stayng n Okla

"CJ" chosen by Cheryl to meet his new friend,


Guido at home in Arkansas. CJ is Cheryl's initials, this match made in heaven, Shihtzu Heaven!

Solomon and Janet choose "Little Rose"


referred by "Wilson"(2008 Shihtzu Heaven puppy) & th Boss family in Ok.......Rose is their 1st child

Janet says that Rose is doing wonderful, no accidents, she is great!

"Reese" Now named "Ace" gone home with new


mommie, Annell and her lovely family: Dacia, Presley and Halen

Thanks Britni (Shihtzu Heaven Grandchild) for the referral

"Little Kobie" flew t meet his new mommie, Gladys


in NJersey. I hear he is loved by the WHOLE family!

THe February snow of 2013 hits Shihtzu Heaven


it was cold, wet, and icky, the puppies loved it but couldn't play in it very long

"Little Bear-Jax" & his new family all the way


from Webb City, Mo, in their "Jax Picture Shirts" very very cute Shull family

Brody and his new puppy: "Little Bear-Jax"


gone home to Missouri to best of buds....Look @ their shirts..has Jax's picture on them

"Chloe" going home with Leah to Alma, Ark


Grma, Popa & Trina are pretty excited also

The Howell family gets kisses from "William"


as he is chosen by them to go back home to Ada, Ok

Dad says this puppy is going to be his and plans t


bond with him ALL THE WAY HOME! "Willy" likes Dad already

"Bella" and her new family, David and Kelia


meet, fall in love and go home to OKC

"Turner" chooses his new mommy, Heather


who drove all th way from Hominy to see which baby would choose her,excited family@home was waiting

.

"Thanks Grma Suzy"says Connor when he finds


out he is getting to take "Duncan" home. Moma Michelle is pretty happy too!

"Duncan" receives love from his new boy, Connor


gone home to Norman, Ok with big sister,"Pockets" 2005 SHeaven puppy

Angie and her children: CoCo Chanel and Louis


Vitonne are the new puppies & big sister "Chloe" going to OKC

""CoCo Chanel" and "Louis Vitonne" try out the new


bed mom picked for them as they head home together

"Tilly and Dandy" love the new bed as they are


headed to their new home. they are happy to be going together

Dandy and Tilli head home to Norman with their


two new children: Emma and Jack

Jace and Taylor pose with "Ralphie"he is their new


best friend going home to Greenwood, Ark to meet Kenzie & Zappy

The Thayer Family from Muskogee love to come ....


visit Shihtzu Heaven.....They have 5 little SH Angels

Kristin & Little Cooper leave Shihtzu Heaven bound


for Tulsa to meet new daddy, Jared, at home waiting to meet his new son

Carmen & the Washington men decide on twins


RyJo & Pudd'n=now "Rocky & Sly" home@ Altus Air Force Base & doing great!

"Miss Maggie" meets her new shihtzu sister, Gussy


& get acquainted@S Heaven.Shirley&Dale reports they r doing great in Arkansas

Terry and Kristin pickup "Cooper" to go home and


meet the boys: daddy and grandpa. The first grandpuppy!

The sun sets on a very happy couple:


Kristin and Cooper, best friends already, lots of love for days and years to come!

"Jasper Carlton" meets his new family in New York


Dr.Perry&Bruce became his new pack along with grandchildren: Lexi is pictured with Jasper

"Look at this baby! he is GORGEOUS!" new mommy


Alycia is so proud of Little Ryder, can't wait for him to meet "Smokey" and "Jerney" at home in Tenn

Alycia and Ryan are so excited to take Ryder home


to Nashville to meet "Smokey &Jerney"2010 SHeaven puppy. They are one big happy family now

"Ryder" and his new daddy, Ryan, are going to be


pretty good buddies even though moma Alycia says he has to let him be her dog,

Margaret waitd a long time for ths little princess


she named "Natasha" gone home to OKC, she says she is "AWESOME"!

Natasha meets daddy, Lonnie, and mom tells him


Margaret says Natasha is going to complete her world

UPDATE FROM MEEMAW! Wow you guys are knocking it out of the ballpark...all puppies are doing well and the new packs are also. You guys have sent me great pictures of their new homes and shown me how much fun you are having with them. I am just elated....all of you have just been so dedicated to getting trained and understanding how to keep your puppies in their routines and the puppies are doing awesome according to your emails. I wanted to stop raising puppies for a while but you have changed my mind....so thanks to your blessings...I will continue for a little while longer... Meemaw

"Livia" renamed Jasmine, gone home with her new


pack: Momma Jenn, grandma and Kailey. They report she is the Perfect PUPPY!

"Jasmine" going home to meet her new friends


and Family in Durant area. Jenn reports she is awesome with her training

Lauren and "Ellie" living to love each other


in Ark. Moma Julie says they are just doing great together & Ellie is perfect!

"Cuddles & MollyB" and new parents: Mary & Gene


take them home to meet their doggy friend, Allie. One big happy pack in Eufaula, Oklahoma

"Gibbsy" headed home for Stillwater, Ok


Jeff and Claudia are so proud of their new baby boy, he was pretty excited too!

"Harper Layne Ginger Ladi" headed for OKC


Lane and Pat are so proud of their new baby girl,Pat says she has made herself right at home.

Harper Layne named after her human father, Lane. Pat smiles just to say
her name,it is so cute! and she is too! Pat says she settled right into her new home, acts like she has always been there and princess of the house.
"We love to sit out in the evening and watch her play in the back yard and
all the other cute things she does, we love her dearly"Pat

"Zach" renamed "Moses" and his new mommy


bond before leaving Shihtzu Heaven for Topeka Kansas.Long drive! Love at first sight!

IN MEMORY OF OUR DEAR SWEET TAMMY: Tammy finally got her puppy,she named him Moses, she was so happy and God called her home. ON April 2nd, Tammy left her oxygen bottle and her broken down body for
her wings in Heaven. Moses is now being loved by her children: Niki and Brandon and her mom, Donna. He is a reminder of Tammy and her kindness and her love for them everyday. A kiss from Moses is a kiss from Tammy. Donna said they are so blessed to have him.

Tammy, Nicole, & Grandma pose for a pic with


their new baby boy, Moses, taking him home to meet brother, Brandon.

"Princess Izzabella Eve" gone home w/Yana,Anna,


Justin,Daniel, Melissa & shihtzus: Alexsander & Bessie

Yana tells me she is an Okie transplant from Russia moved here by her husband,Justin, who met her while serving in the Armed forces. Gone home to Lawton, Ok... this family almost have a dog each. Izzabella is in good hands. Thank you Justin for your services to keep our Nation Free.

THE VALENTINE'S Puppies

The Mulder Girls...quite a pair


Parents: Pete & Louise are pretty excited to take these girls home t new life in Greenwood, Ark

Wyatt renamed Cowboy is chosen by Debra, Mark


and Belle Starr (SHeaven doggy) & moving to Broken Arrow Ok. Friends FOREVER! the perfect pair

Th Wilkerson Girls n Kinta,Ok: Kay,Hailey,Hannah&


th new bby girl:Hadeee. Daddy Jeremy is a little out numbered but he is pretty happy too!

Kathy & Randy are proud of their new little girl,


Tizzy. Going home to be best friends with their other shihtzu, Tag.

Kathy, Grma Ann and Randy are pretty happy


taking this precious little Tatiano Izzabella home to Coweta, Ok to meet Tag.

Nikki & Billy adopt one of my 'older ladies'


Lulla Belle is Nikki's birthday present & going to be friends with her little boy

Sammy Jaxon and Gracie get acquainted upon


Jaxon's arrival the day after Christmas.Penny says they know which bed is theirs, amazingly.. .

James&Penny choose Sammy renamed Jaxon


Ready for their next Shihtzu Heaven Puppy, Sammy has gone home to Muskogee, Ok

Jeni & Toni are finishing their shopping today...


Ebony..Sid..Charming: Hope you are on their gift list for Christmas, these are gifts!

Toni and Jeni tell everyone how special Shihtzu Heaven puppies are, Toni says they are just so much better than other puppies, in every way. ("thanks Toni & Jeni") They have ZhaZha and Ziggy @ home and are gifting puppies for Christmas, welllllll Sid may be Jeni's. Surprise three times! Merry Christmas everyone

Christian's very first puppy,he is so proud,picked


it out all by himself. "Boo Boo" is going to be his favorite little buddy for many many years

Renee & her new baby boy "Yogi" will have plenty


of fun w/Boo Boo.Merry Christmas is going t b fun@their house.

A very special thanks to the
Guenette family and the Smallwood
family for their referral of the
Parker family to Shihtzu Heaven.

"Happy Feet" was a BIG SURPRISE TO


Makaila when she arrived at Shihtzu Heaven.....a special little boy for a special little girl!

"Happy Feet" meeting his new family pack


Merry Christmas to the Brown family from Lawton, Ok

Puppy parents report some puppies leaving this week are already ringing the bell, most are going outside with little or no accidents... doing great! It's all about keeping them in their routine at their new home. Meemaw

"Razzle" chosen by the Nickerson family and moved


to Ada, Ok with his new family: Mona, John, Kyle Christina and Johnna

"BJ" renamed Rodee, goes home with his new


parents: Roger and Dee. Rodee is now at home in Mustang, Ok

I call this one "LOVE IN BLOOM" Susan flew here


from California t pick up Bo & fly him home,He loved her at first sight.Kisses abundant/her reward

Debra is so happy she found Shihtzu Heaven & her


new baby girl "Cari Su": she said she almost adopted another breed but the shihtzu pulled her back

Debra reports that "Cari Su' has met daddy,Mark, and she has a new name "Bella." Debra says she is the sweetest
smartest little thing ever, they are doing great and she is the "BELL OF THE BALL" all the time at their house. I believe this is witnessing 'joy rising'.

"Izabella Jo" chosen by Carl and Sue


going home to OKC to be their little princess

"Izabella Jo" gives hugs to her new mommy


Sue is smitten by this little girl, hugs and kisses galore are in their future

Jackie tells Chase this is his new little brother


& he doesn't seem to mind at all.Chase knows all the training moves/sounds/going to be his best bud.

Jackie's smile is pure maternal JOY as she picks


JJ to go home with her, renamed "Jacks" he is going to fill her home with more love

Little Okie going home with his new family to OKC


Skye and Ruby picked him up after Mark & Ruby picked him out weeks ago.

Ruby and Okie, friends forever!


Okie already knows his new friend and is happy to be going home with her.

Chuckie renamed 'CeCe' and his new family


The girls were princessed up and CeCe was ready for a good time, joining the Hamilton family in OKC

A pic from Aleah Kate's new family in Minnesota


Aleah is pretty happy after flying all the way to Minn to be with her new family

Foxi Roxi making the Kindschi family very happy


to be their new baby girl....big sis Little K (SHeaven puppy) will come around to her new BFF.

Clementine-Nyla with her new human sister, "Monet"


right after she got off her flight from Okla t NewJersey.Monet loves her already!cute girls, huh?

Miss Clementine renamed "Nyla" flew to New Jersey


t meet her new mom:Michele.She says NYLA is th perfect match & fits n like has always been there!

"Clementine-Nyla" and her new family in


New Jersey. Happy Dog and Happy family. Michele she fits in perfectly.

Friends & Family: Yoda and Rickey go home kinda


together. Friends:Amber and Ginger adopt Yoda & Rickey.. they'll get to play together sometimes...

"Yoda Lei" chosen by Amber gone home to


Hugo, Ok to see her sister, Lily. Isn't she pretty.../? Cody/Cleo puppy

"Rickey" renamed Samuel has been chosen


by Ginger and gone home to Hugo, Ok to meet sister, Brooke. He's a doll: Cody/Bailey puppy

"Seramena Angelina Willowmenia" yep that is


her full name.....gone home with new mom, Priscilla to Poteau, Ok

Carlie gone home with Jan to be her special friend


and Gary's little angel. meeting new friend, Leigha and living in Tulsa

Thanks to all of your for adopting my little angels, followups with each of you that have just taken puppies home are that they are all doing perfectly on their housebreaking and you each are doing great with the training as well. Thank you for giving me your undivided attention during training for your puppies, I can tell you that your dedication is the reason your puppy continued it's training perfectly. Thank you for your referrals of family and friends and for your returns to buy your second puppies and thirds. I am truly blessed by your trust in me and your love for my puppies. Thank you Meemaw Pam

"Sarah" picked up by Brynn & Adam, a surprise


for her mother, Pam, from her dad, Don.Gone home toTexas to meet Moma Pam BIG SURPRISE! pic pending

"Bunni" Marsha found her on my web site and called


& said 'she is th one,be right there' & she was!another love match made n Shihtzu Heaven! home n Ark

"Miss Ellie" finally meets her new mom, AMY, & on


the way home t Ardmore t meet Justin, Hunter, Morgan and Delaney.Thanks Aunt Sabrina for coming too!

"Sawyer" and Andrea finally get to take each other


home to meet all the family. Sawyer is loving the children she says & very trained. Doing good!

"Gordon's" new family Monica made Gordon very


happy and Gordon has made Monica very happy! What a happy couple!

This family looks familiar, yes, Jessica came to pick out her new puppy "Hootie" and Monica bonded with Gordon, but she had to think about it and two weeks later, she came back and adopted him. Gma Linda has a shihtzu heaven puppy also "Bucky" she adopted many years ago, "Oakley" Monica's shihtzu Heaven puppy adopted four years ago had an early demise and Gordon is now healing the hurt!

"Luci" gone home with Cathy to Tulsa


Daddy Frank is waiting at home anxiously to enjoy his little angel.

Cathy and Frank and little Luci, one big happy


family

*UPDATE from Luci and Cathy: Cathy writes to Meemaw "We went for our meet the groomer appointment yesterday and the groomer said she was so easy! Just wanted you to know, gave you all the credit. We are doing well! She is such a joy! Once again thanks for raising such great puppies!
Cathy

"Precia Precious" renamed "Lily"


going home with new moma, Phyllis, and Jaylon and Natalie, the REST of the family waiting at home

"Emmy" gone home to Indiahoma to meet "Cowboy"


her new Shihtzu best friend and moma Mistye, thanks Kenn, Gia and Dakota for coming after Emmy.

"Josie" going home t Ark w/Lisa. Grma Jane, Aunt


Emily and Aunt Christie are excited too! Josie is a lucky girl,gonna get lots of love n Jonesboro

Thanks to Aunt Emily for referring Lisa to S Heaven after Emily adopted her baby girl last summer, Emma renamed Chloe.

"Josie" meets her new mommie, Lisa, for the first


time since Lisa took a leap of faith and adopted her from her picture. Love happened!

"'Ja Max" loves his new mommy, Betty, as they


are leaving Shihtzu Heaven for Ark.. Hugs galore & yep, even a kiss!

"'Ja Max" goes home with Betty, thanks to Aunt


Debbie, Aunt Donna is also very proud of her new bro.

All the way from Nashville comes the Kliesch


pack to adopt "Jerni" and take her home to meet "Smokey"

"Cooper Max" gone home to Ark for Christmas


with his new new pack 'The Briese" family

Daddy Joe picks up "Cubby" to take home to


Moma Brandi & Nash, shihtzu bro Cooper will be So surprised! will be back for Chloe in Feb

"Jillian Bailey" and Momma McKensie


a long time waiting for this little doll, it's worth it now, gone home to meet daddy Scotty in Okla

"Copper" goes home with Ryan and Daddy


meeting Moma Anna in Arkansas. Doing very well they tell me.

GrPa Tony makes the trip from Illinois to pick up


Daphne and Tinkerbell for his girls: Hailey, Emily and Monica. Thanks Tony

"KC" is chosen by Elizabeth,Daniel,Owen and Kylie


Gone home to Arkansas to be this family's little bear.....renamed "Oso"

A home of love for my older dogs: Honey & Ginger


gone home to Arkansas to live with the Hinshaw family. Many years of love left to give. Thanks guys

"Maci Gracie" gone home with Becky to be her


new best friend. Friend Michelle, a Shihtzu Heaven satisfied customer x 3, helps Becky get here!

Jena chooses "Eddy" and Grma Peggy agrees


Going t stay n Oklahoma & b Jena's little baby boy, gone home t meet daddy Taylor & P paw

Emily and Adam choose "Emma" renamed "Chloe"


going home to Arkansas to be their baby girl

Trixi and Kix moved to Arkansas


Adopted by Chris and Jason and their boys, & doggie sister, Kiza, waiting for family picture

"Wendy, renamed Issy" is proud to meet Shari


her new mommie from Arkansas and also Granma Bobbie who doesn't like dogs, bet Issy changes that!

"Chasity" love at first sight with Daddy Shawn


gone home to meet Buger Ben.Thanks t Grandpa Charles for driving Shawn t Shihtzu Heaven t get Chas

Whitney & Kevin proudly show their new son, Neeko


going home to meet new bro, Shaggy. Grma and Papa enjoyed this adoption too!

"Kamiil" with her new mommie, Nikki, going to


bless this family in their time of need & they r loving her! Aunt & cousins help out

"Scarlet" adopted by Bethaney, Penni & James


Going home to play with Mia (2008 Shihtzu Heaven puppy) moving out soon with Moma Bethaney

Penni reports that Mia and Scarlet are getting along really well and they are very happy with her.

Jose and Jessica found love babysitting Cloe a


2008 Shihtzu Heavn pupy..so they came toget their own "Little Willo" was the lucky girl chosen.

Jessica states that Cloe and Willo are enjoying each other so much. She is very proud of Willo, no accidents, everything is wonderful. She is perfect!

"Isabella" chosen by Ashley to be her best friend


Thanks Uncle Ronald and Aunt Kassaundra for helping find Shihtzu Heaven & get Isabella to Ark

Ashley reports that Isabella is doing great. She is the perfect puppy she says.

"Sweet Pea" flew to meet her new family in Philly


Momma Tiffany, brother Jayden and Shihtzu Bro "Dudley" another Shihtzu Heaven puppy 2009

Lydia and Gary came looking for a female and


were claimed by Little Bit renamed "Chan Chan" and home in Stigler, Okla with his bro: Hobo

"Simon" renamed "Harley" and gone home with


Darla and Glen in Oklahoma

"Woody" family:Elysia,Eric & Hoyt came from


Wister, Ok to adopt this little guy....naming him "Bubble Puppy" Guess WHO named him?

"Siren" and her family leaving Shihtzu Heaven


for Tulsa, Ok: Heather, Lucas and Lawrence "Miley" waiting at home to be sisters forever!

"Siren" and her new boy, Lawrence, get


ready to leave for home. Siren just cuddled right up in his arms

Ahmed smiles with joy as he picks up "Prince"


and heads home to Checotah, Ok

Bill gets reacquainted with "Daisy" before they


start home to Checotah, Ok

Bill & Ahmed taking home their new babies


will be brother & Sister: Prince and Daisy. One big happy family in Checotah Ok

Your puppy is thinking if it is walking, if you are carrying it, the brain is not maturing. Always walk your puppy on a halter and leash, allowing it to think and smell and explore.......below see Kristin leaving with her new puppy on a halter and leash Meemaw supplies with the puppy, this puppy
will walk to the car and know he is leaving and going to his new home which will allow his energy to relax and have a good trip home then he will walk into his new home taking his energy in, this is the ONLY way to rehome a dog or a puppy.

"Jaxon Jakee Zeus" Dennis & Jane meet & fall n luv


headed for Stillwell,Ok to meet sister Sasha & her SH dog:Axel

WOW! look at Daisy and Prince's new bro


Bill and Ahmed are pretty happy with their new family additions

"Wendii" headed home with her new family


Gary, Kathy,Ian & Garrett to Edmond,Ok going to meet new friends: Noah/Sassy

Debbie and "Sopfi" renamed "Gracilynn"


gone home to Texas, she is now the mascot at Debbie's store

Chris Debbie and "Sopfi" renamed "Gracelynn"


all the way from Austin Tx....to pick up Sopfi Grace

The Bair family gets their GIRL "Tiara" being the


little Princess of the house now. Gone home to Harrah OK

Catherine and her baby girl "Tiara"


The Joy of her life, says she is doing WONDERFUL! the perfect puppy

Alyssa will gladly claim this little guy! "BooBoo"


is the best friend she always wanted. He and she are doing GREAT !

The Powell family chooses "Boo Boo"


going home to OKC to be the family mascot...what fun what fun!

"Sammy" and his new friend "Teagan"


Sammy climbed right into his new bed and was ready to go home

"Sammy" and his new family "Pack" gone home to


be Teagan's NEW Best Friend in Spolale, Ark

THese girls look happy, they just adopted little


"Cowboy" rehoming him, Connie is so happy with him & sister Dara is too!

Sister Dara reports that Cowboy is less of a man (neutered Thursday) but more of a sweetheart,doing well and oh so sweet. loving him dearly, totally housebroke, no accidents, that is great for a rehomed puppy..Meemaw's puppy rehab works! YEAH!

"Timmy Chayse" renamed "Harley" chosen by


Presley to be her new best friend...going to love this little boy..the fun they are having!

"Harley's " new pack in Edmond Ok are very


excited with their new baby boy & report he is doing AWESOME!

"Cooper & Honey" going home to Muskogee OK


t meetSHpuppies Gracie&Jaxon2011 w/James&Penny&their daughter&grdaughter..Like th matching bows?Cute

"Sweet Pea" going home with her new pack


Pat, Jean and John, all the way from Bella Vista, Ark. their house is full of love NOW!

Shelly and Mom pickup their new baby girl


from Jonesboro, ark........love is going home with these girls today!

William goes home with Claudia and Jeff


to Stillwater Ok to meet SH puppy Gibbsy

Pam and her twins living happily ever after


in Collinsville,Ok with shihtzu bro "'Wickett" and daddy Steve

Lots of LOVE, COCo can't keep her tongue off


Cathy. It was love at first "lick"....I don't think I got that many kisses from her! Perfect Match

"Allye"renamed "Kamlynn" goes home to Poteau OK


with her new pack: Tia, Shayla & Nikki "Kamil"(SH puppy 2010) waiting at home to meet her

"Liara Faith" renamed "Daisy" heads home with her


new parents, Carole & John....to BA, Ok to meet Jake & Cayla

"Gibbsy" with his new sister,Rachel and her friend


Michael. They just had to come meet Gibbsy, named after Gibbs on NCIS. "ladies man, he is"

"Sparkle Mallie" is Shelly's birthday from her mom


Shelly waited a long time for this little girl t get ready.she&Grma Carolyn home t Jonesboro Ark

Brittany and Brad choose"Levi" the little wrangler


Levi is the sweetest little puppy ever, going home to Sapulpa to be their first child/puppy

Grandpa John isn't too sure about all this puppy


stuff, but glad to help his daughter with her first puppy selection

"Millie" rename "Foxy Roxy" got to go home with


her new family, to Stigler, Okla

"Maddie & Max" with new parents


Virgil&Karen r happy t hav th pitter-patter of litl feet n their home once again n BellaVista,Ark

"Suga Spec" now called "Bandi" stole the hearts


of Anne and Ken from Broken Arrow, she is the new light of their life.

"Marci" leaves with Cheryl from Van Buren


Ark and her family "The Wests" from Springdale. Marci & Cheryl loving each other through life!

Robin & her family pickd up their baby girl"Molly"


It was a little wild,but we got through the training and Molly is doing well in Springdale, Ark

Molly and Charles are going t share these guys


Chip, Ross and little Wyatt, going to love living in Tex

Chip and Ross's new boys to play with


in Texas, they were home waiting on these boys to arrive & the fun started

Dwayne, LaVonne & Dawn choose "Bella K" to


add joy to their lives in Bella Vista, Ark. renamed Susie, she was giving sugars to all!

"Rosie CoCo Ahyoka" gone home with


Mike and Diana to Springdale,Ark to meet shihtzu sisters: GiGi & Miss Daisy & human bro, Scott

Diana says her old dog, GiGi was pretty happy


when little Coco came into her life. She loves her dearly & allows Coco to lay on her.

Dalton and his new little friend "Scooter"


What joy is going to fill his heart with this little guy. Home in Longtown, Ok

Dalton is having great fun telling "Scooter"


this is his Grma and Popa, and they don't seem to mind either. Happy family leaving S Heaven

It's a new baby boy for the Accord family.....


Liing Liing added this date makes 3, his brothers will be as excited as mom and dad !

Family friends:Brenda & Ryan enjoyed the visit to


Shihtzu Heaven & the fun of helping Kathy & Jack pick out Liing Liing.

Jack & Kathy love love love the Shihtzu breed....


Their children: BeeBee, Boo Boo, & new one Liing Liing Happy Shihtzu Heaven customers past & Present

Teddy Bear , Kerk, and Boo Boo
get a new home today!

The Parker family from Ft Smith Ark came to visit


Shihtzu Heaven and left with two baby boys, oh happy times for this family pack

The Sanchez family is already enjoying their happy


Merry Christmas with their new baby boy....with his new pack.

aaaaaaaaahhhh! Little Nina got her Merry


Christmas Surprise from Shihtzu Heaven and she is thrilled....the puppy she has always wanted

"Pippa Grace" now renamed "Zoi Grace" gone


home w/ her new mommy,Dixie.Love is truly n th air between these two...Dixie's heart is healing

new parents: Larry and Dixie choose Pippa Grace


Larry decides she is better than a vacation....sweet sweet Grace of God

SANTA DADDY??!! Hmmm well dad is helping


Santa out. Mike picks up 'PUPCAKE" who had been preselected by Jaydon & Stacy for Santa to bring.

Carlie picks up her new baby girl "Ginger"


She is so proud of her little angel: bro Jeremy and daddy Gary waiting at hom

Debra and her new baby girl "Hope"


Hope for the dreams of the future t come true, she is bringing her mommy many moments of happiness

Debra and her buddy, Debbie, pick up "Hope"


Aunt Debbie thought she was pretty special too!

Susan and "Snyder Bo Fluffy" fly off together into


the sunset headed for California.Uncle Bo t th puppies,they r a litle lost but he is very happy

"Jaed" chosen by Janice and son, Brian to go


home to Tulsa and meet her new shihtzu sister, Annie.

"Jaed" and new mommy: Janice.


Janice is pretty excited to get Jaed home to meet Annie

Little Samme, Mike and Gerey return to S Heaven to


get Samme a little buddy. "Bubbee" going home to OKC, Brothers forever.

Samme loves his mommy&daddy so much he gets


very upset when they leave him....so now he has a bro (Bubbee) to be with him.

Gerey reports they went to Church this morning and came home and the boys were fine, Samme had not gotten upset at all. She says Bubbee is just perfect slept all night, playing and eating well. So proud of both of them.

Bob & Kathryn come after their 2nd S Heaven puppy


Selected "Cecile Max" Bob's dad was named Cecil, such a happy family

Little Hannah came to help Grma Grmpa pick their


new puppy out. Her mom, Edie, & she watch from the truck loving her purse puppy from Meemaw.

Bob & Kathryn load up with "Cecile" showing him to


Pat, Edie & Hannah. "He & my dad have the same name" Bob tells them, it is a fun coincidence @ S H

"Jasmine" renamed Ellie Mae has gone home with


Mary Aleda to be her new best friend in Jonesboro, Gma and mom are pretty excited also.

Little JP is chosen by the Burk family


and gone to Muskogee to be their new best friend.

Chloe's Batgirl's TEAM wins big as League


Champions AND League Tournament Champions! SHe plays 1st base

Glam girls, youth division



Chloe Cheer pics with friend Taryn



Chloe stretching it out on 1st base



Chloe's Softball team "Batgirls 2011"


8 and under team and 11 and under team: 1st in league, 1st in league tournament GO GIRLS!

"Reese" and "Scotty" gone to Texas to be bros


raised tgether & stayg tgethr,it's great.Moma Terry,sis Emma & friends Avery & Delaney, Surprise Dad

Terry and daughter Emma both choose a puppy


Reese and Scotty going home to Texas together to meet Dad & Sundae

Mona and her long awaited pick up day with


Melody. one proud mommy....Melody was pretty excited also...

"Melody N My Heart" going home with new mommy,


Mona and Grma Edith to meet Daddy Gary in Tulsa and Shihtzu sister: Maggie

"Dominic" renamed "Samme Jac" gone home to OKC


with his new parents: Gerey & Mike & Grdaughter Casey & shihtzu sister: Sophie Sue

"Ruedy" going home to OKC to meet Silas


his new bro Weanydog. Aaron, Tammy, Cherish & Josiah will be his new family pack.

"Gracie" Momma K's little angel & daddy Pete's


little buddy to spoil. They waited a long time, but chemo is over and Gracie is home n Bella Vista

Bunni was Marsha's mother's day, but today,5-30, they came back for Riley. The girls are going to have a great time together. Look out world.


"Riley An'gel" gone home with Marsha & Bunni


and aunt Cheyenne. Bunni and Riley are going to have great fun together in Ark

Mayra & "Sonny" the puppy she has dreamed of


since th day he was born & she saw him at Shihtzu Heaven,gone home t meet 'Misty Moon' shihtzu sis

Mayra is a lucky mother this year, her family


brought her to Shihtzu Heaven and surprised her with the puppy she wanted for months "Sonny"

"Little Timmy" and Debbie found each other at


Shihtzu Heaven & love was in bloom. Timmy is a SHvn Grandpuppy, Glad they found each other.

Debbie and "Timmy" get support from the family


Crystal and her son are proud to help Grma adopt Timmy

"Farrah" and "Bellz" adopted by the McKenzies


Got to rehab together and got to go t their new home tgether!They r very very happy n their new home

TJ says the girls act as though they have lived with them forever! and we
absolutely love them dearly. They are fitting in so well with us. People don't ever hesitate to adopt an older shihtzu they do JUST FINE!

"Ivan and Sophie" will get t have play dates maybe


Mommies: Karen and Twila are coworkers/friends. Thanks Twila for referring Karen to S Heaven

"Sophie" and mommie, Twila, such a special love


These two r going t b great girlfriends.I can see her w/her little frills,all diva'd up n OKC

"Ivan" gets to go home with his new mommie, Karen.


They r quite smitten w/each other,kisses galore,Friend:Khaki is waiting in OKC for them to get home

"Cotton Candy" is ready to go home with parents:


Kathy and Marvin..waited a long time for this day ... will meet new shihtzu bros: Peanut and Popcorn

"Cotton Candy"joins th family,long awaitd daughter


Kathy & Marvin and the boys: Popcorn and Peanut. All three Shihtzu Heaven puppies.

And "Macey" makes two, #2 S Heaven puppy, the


Williams girls are quite happy as they return to OKC t unite with Penelope

"JaiDa" chosen by Kim and Efton but will come


back after her and the training session..........

"JaiDa" renamed "Muffin" by new mommie, Kim,


Aunt Jessy came along to enjoy training and getting this little girl home.

"Jax" and new friend, CoCo. & their mother, Susan


Gone home to OKC to be with CoCo

"Ryker" chosen by Carolyn to be friends w/ CoCo


a 2008 Shihtzu Heavn puppy and gone home to Ark to meet Daddy Gene.

Jennifer, Jessica and Julianna take Diviya home


and will come back for their #2 choice: Ja Lee, when she is ready to go...

Michele & Cami drive all the way from Kansas to


claim their new best friend X 2. They fell n luv w/Felix & Stewart, bros stayg tgthr. So Sweet!

Michele and her new baby boy "Stewart"


Mocha and white in color, matches her favorite cup of coffee, will his new name be 'Java'?

Cami and her new baby boy "Felix"


new name pending me being able to spell it correctly

Aaron was waiting at home for Crystal Mollie to


arrive, they wasted no time getting acquainted.

"Crystal" renamed "Mollie" gone home with the


Brown family n Oklahoma to meet her new Shihtzu buddy: Boomer... & big bro: Aaron

Caroline adopts one of my older dogs, BB Boy Pooke


going home t Arkansas t b Caroline's nu bst friend.My cup runneth over from blessgs.Thanks Caroline

"The Boys: Coco and Hershey" staying together


gone home with Jill, Madison and Emma, staying in Oklahoma together.

Jake moved to Pa to meet his new pal, Max.


Momma Elissa and human bro, Dylan. His flight went great & Elissa says all is great!

"Bo Jangles" gone home with "Angel" ,,,,his new


Shihtzu Lady friend. Daddy Dale and Moma Kathy lovin their new little boy, he is staying in Okla

"Sammy" Jessica and Chance, one big happy


family going home to meet "Bernie" 2005 Shihtzu Heaven Puppy

"Jasper" and new mommie, Linda, and Aunt Mindi


going to love this little guy! staying in Oklahoma & can't wait to meet dad.

"Tawny" renamed "Suzy" going home w/her new pack:


Family Jeremy, Ashley, Mary and Faith. th girls just couldn't wait t get her home

"Felix" so happy to be chosen today by Brenda


he just hugged and hugged his new mommie, human sister, Sherri, will get to hold him later, maybe.

"Rubi" is Summer's new best friend in Ark


GrMa Kelly & Aunt Paige r very happy &excited t add Rubi t th pack:Uncle Tucker & Cousins Bo & Toby

Barbara adopts one of my older puppies "Sheeba"


getting to live th good life in Ark. Thnks Uncle Mark for driving ur mom to Shihtzu Heaven.

Tammy and Mike help Mama Reda pick out


"Kelsey Kate" another match made in Shihtzu Heaven

"Little Timmy" goes home with Daddy Roy in the big


18 wheeler all the way to Texas to surprise momma Connie, Sister Ebony and Shihtzu bro, Preston,

Preston is a 2008 Shihtzu Heaven puppy

"Danielle" going home with John and Nancy


to be the new University Ft Smith Razorback fan. Wonder what her new name will be?

Amy & her children pick up Oliver (rescue puppy) &


Olivia (S Heaven retiree) adopted by her aunt Carla, great little doggies making Carla very happy

GrMa Bonnie flew to Okla to visit and son, Mike


helped her find Shihtzu Heaven to meet "Kassie Su". Kim, Kyle & Shelly shared the excitement.

Momma Bonnie put Kassie Su right on the plane with her and flew her to meet daddy Hal in Illinois. I hear they are doing Great!

The Wynn family from Arizona took back quite a


souvenier from Oklahoma, Sydney chooses "Mindy" to grow up with her as her little princess

Thank you Uncle Dusty (Shihtzu Heaven Son) for taking us to Shihtzu Heaven

"Keisha" going home with the Smallwood family


Entertainment is on it's way with this little girl. Grmother is excited too!

Diane and "Missy" (07 puppy) bring friend Gay to


meet Meemaw and entice Gay to pick her out a little angel, She'll be back when the house is ready.

"Emmi" and her new friend/mommie, Morgan


Getting acquainted was a little scary for Emmi, but Morgan reports she is doing well now!

"Benjamen" chosen by Jordan & Chris


Thanks Grma Carla for making this all possible

Mama Hazel chooses Meemaw's special little babyboy


"Little Running Bear" raised on the bottle, carried in my pocket to work til he could eat on his own

Regina and her Shihtzu Heaven children 2008


comes back to visit Meemaw and brings Mama Hazel to get her a new baby. (above)
The Lawrence family adopts "Faith"
to add to their Shihtzu Heaven family back home
This baby girl is loved by her daddy & her mommy!


Lucky littlle Goldie going to her new home.

'Little Goldie" goes home with Frank and Marquita


she left in her bright red sports car with her new mommie and daddy, gone to Arkansas

"Oreo" goes home with Melanie and Jeremy in Okla
Melanie said she got so excited when she decided to come get Oreo that got Jeremy off the lawnmower

and headed to Shihtzu Heaven. It wasn't until after Meemaw got the camera that she realized she had no makeup on but Oreo thought she was beautiful. Oreo joins "Willy" another Shihtzu Heaven puppy they adopted a few years ago from another person that had gotten him and couldn't keep him. Melanie said she did not know why anyone would adopt a Shihtzu any where else except Shihtzu Heaven. She said her 'Willy' was a perfect dog.

"Levi" chosen by Dorinda and renamed "Romeo"
wonder why? could it be the kissin and the huggin going on. New companion from heaven!

"Lei La Noel" born on Christmas Day gone home on Easter Sunday. She is a special little girl and now she is one of the "girls"!

Lei La going home with new mommie, Karen and


sister, Kimberly, Lighting up their world as they leave Shihtzu Heaven.

Rosebud's new family, her name is now Emmy
moved to Arkansas

RUEDY adopted by the Williams family


moved to Arkansas. They report he is already one of the family , makes every step the girls make

Update on Ruedy: He is enjoying exploring his new home and follows the girls everywhere, he is so good natured and lets them love all over him, he sure is a lot of fun for all of us. Leslie

"Penny" adopted and renamed: Heidi


Gone home to be the best friend of Kathy, Weston and Lexie. Thanks Daddy Glen for the puppy!

Heidi is the new showdog of Ft Smith/Van Buren, reports Kathy, she has been everywhere and family and friends have enjoyed coming over and seeing her, she is doing well and we really love her and we hope we aren't spoiling her. We will be back for more instructions.

Holly leaving with her new pack: Mama Cindy,
Daddy Bob, Uncle Bob and Uncle Ryan, going to Ark

Kipper goes home with Faye and Doug
Happy Birthday Doug,........good luck with your surgery you are in my prayers

Mandi Ma La' and Woody get adopted together


This Arkansas family very happy with their new family members

Monica says "Two are a lot of work at first, but we are doing better now. Everybody is doing fine"

Ariel adopted by Cindy, Jaxson and Gracie


Going home to Arkansas to meet Jack and Brittany and play with Ellie

Ariel is the Queen of the house.....we love and enjoy her, she has been a great addition to our family. Thank You. Furr family

Nova finally gets to go home with moma Shelby and
daddy John, and also picking him up his aunt Kim and gramma Sheila, who decides to adopt Cory.

Midas and Eli Mae "GOING HOME"
they are excited about their ride home together, Peggy and Don are TOO!

Peggy, Eli Mae, Midas and Don
ONE BIG HAPPY FAMILY.......gone home to meet Ginger

Pam they are doing wonderful, love each other and have even made friends with Ginger, our Jack Russell. Eli Mae has found the mirror &they both love TV. Thanks Peggy

Meemee Joyce and Hershey
friends forever

Pam we are doing really well after I finally got over my fear of doing something wrong! Hershey has been great from the start. Thanks Joyce

Hershey goes home with momma Joyce (Meemee)
and Aunt Nancy, cousins Alex & Evan and gets to meet Bubby (adopted 12 years ago from Shihtzu Heav)

Little "Eli Mae" got to go home today with


Peggy and Don, they will be coming back for Midas

"Bentley" flew to Pennsylvania to meet his new
parents. Thanks Lisa for adopting a Shihtzu Heaven baby from Oklahoma

Michael and his two new baby boys: Prince & Cole
going to stay in Oklahoma with new siblings: Coco and Pepper

"CoCo and Pepper love them both and they are adjusting well. I let them both sleep with me and they curled up and slept all night with no accidents. Thank you for all your advice and help." Michael

Erik and Laura come back after their 2nd
child< adopting Kirby to be brothers with Monte Max (Oreo), staying in Oklahoma

"Missie" renamed Rendell's Zoe De Monet Nuevo
chged to "ZIVA" Big names for a little bitty princess, flew to the Rendell's family in Georgia

Jill and her new baby girls
gone home to Texas

"Goldilocks" adopted by Doug and Linda


Going home to be the 'Princess' in Arkansas.

Amanda and her two new children:
Snicker Doodle comes back to adopt Kassie Kate..... Now two is double trouble or LOTS MORE FUN!

James and Scooby------------Denise and Little Duke
Another MATCH MADE IN HEAVEN: Scooby and Duke happy to stay together...2 is lot's more fun!

Snicker Doodle goes home to Ark
Amanda, Josh, Kelly and Colton

Abigail enjoys her day with Nana and Popa coming


to Shihtzu Heaven to pick up little "Baxter"

"Baxter" gets picked up by Nana,Popa, Abigail
and Aunt Little K. for Mike and Katrina and big brother "Oreo"

"Oliver" has a new best friend in Virginia
gone to live with Anna and Abigail.

Jenni surprises Tony with twins
Benji and Sabrina move to Arkansas renamed Ziggy & Zha Zha

Nicole adopts Prince
Gone home to Stigler with Nicole family

The Colorado, Texas and Oklahoma group
What fun we had: Dandy, Oreo and Little K' families

"Kelli" renamed 'Little K" gone to Texas
Home with Norma and Henry Thanks to Oreo,Katrina and Mike

Chuck, Machelle & little Jen Jen (imperial)
gone home to Ark

"Harley" renamed "little Willie Woo"
gone home with with Sue and Keith in Oklahoma to see sister Ruby

"Little Bear" with Mommie Angie and Auntie
Gone home to OKC to see brother

Little Casanova, some of you will remember th kiss
from Casey. smile. A kiss for daddy Troy..................

Lovey gets a home in Okla renamed "Sammy"
Shirley and Lloyd

Christy and Abbey choose Toi Man

Grma Martha meets Molly, New Mama Pam is so proud

Okie chooses Pam and is home in Oklahoma
with sister, Molly and daddy, Fred. Okie renamed Max

Brenda adopts Millie
Mommie and Millie

Darrell and Cindy adopt Emmy
The long wait was worth it......

Mollie goes home with Pam and Fred

"Reed" goes home with Tama and Rick
renamed "Little Hoot"

Dalaina and Michael pick out Cotton/Cesar to go
with them to his new home. He is so excited............

Ramona picks Dudley and big sister Tonya helps


going home in Oklahoma

Lee Ann and her daughters

Tabor adopts CoJo but calls him "Blue Bow?"
Second choice name was "Brown Dog"? Mom rescues him with new name of Bodie

Hillary goes home with Patrick, love @ first sight

Damon and Brooke choose KuJoe

Janice and "Ginger Lade" picked each other out


Gone home to Arkansas to be Janice's little buddy girl

Josh, Brittany and little Josh finally get to take
"Rambo"' home. Rambo was quite happy, with tail wagging and ready for his forever home!

HEY GUYS! ANYONE from Springdale, Ark? Go by the KWIK KAR Lube and Tune and get $5.00 off full service oil change. See Debbie or Brad and tell them Meemaw Pam from Shihtzu Heaven sent you by. They will take care of you and you might even meet 'Eli Max'.

Brad and Cooper with help from Grandmother
adopt 'Elliott Maxwell' going to be helping entertain at the Kwik Kar Lube & Tune

Gramma came to help Sampson and Ramona pick
their new baby girl, "Sasha" will she become Delilah?

Little Mia goes home with Christi, staying in


Oklahoma to be Christi's companion and faithful friend. Her Easter Prize

Panda FiFi Girl selected to be Toby's new best friend. Toby was adopted 3 years ago from Shihtzu Heaven.

Little Panda FiFi Girl goes home to meet Toby w/


Shannon & McKenzie. Addison and Ronnie waiting at home to welcome their new family member.

Channity, Mercedez and Kenneth adopt brother


and sister (Pebbles and Bam Bam) gone home to Kansas to see daddy, Tommy

"Miss Maddie" joins her big brother, Mac and
moma Janet and daddy Aarion living happily ever after in Oklahoma

Sharon and Max are so excited, their babies
are finally ready to come home: Lola Louise and Cooper Max, what a pair!

Chastity and Sammy, Love at first sight

Chastity and her new buddy: Sammy Jac' Sun
and his new pack, take him home to Arkansas, he looks quite happy with his new mother

Mama Cindy is excited to receive her surprise
Christmas Present "HOLLY HONEY"

Linda Garrett and Max , happy to be adopting each
other, gone home to Arkansas. Max seems as happy as the humans

Mary Ann and Casey choose each other
gone home to Arkansas

Mommie Sallie and the newest love of her
life.........Maggi

Pam, Maggi is doing wonderful, I am so pleased with everything about her! Thank you so much for her. Sallie

Aunt Patty and Mommie Sallie adopts Maggi
Gone home to Arkansas to be Sallie's new best friend.

The Girls: Tink and Mommie Cindy

"I have been so busy with my new babies, I can't get enough of them. They are perfect, perfect in any and every way. Rocky has blossomed, still a lover but runs and plays all over the yard. I am so glad we got them both, they are very secure, no crying, no yelping, sleeps all night. I can't even think of enough words to express what a positive addition they are to our family. THey enjoy our large back yard, wooden deck and the new canopy where we have our picnics with their toys. I spent the whole day out with them today. We were all in heaven. So glad to add you to our family" R Cindy M

Rocky and Tink and the whole family going home
Curtis, Cindy, Cory and Jordan & Uncle John and Aunt Shelby

Uncle John and Aunt Shelby will be back for their own, Baby Nova, in a couple of weeks when he is older and hopefully a little bigger.

Rocky and his BOYS


going home to Arkansas with Tink and meeting two new animal friends.

"Kash" is a hit with Parker and Claire
He seems pretty happy as well.........he will play ball and ride in the doll carriage, I guess.

"Kash" gets chosen by Paul, Erika, Parker and
Claire....I think he will be wearing bows and pinks in Arkansas

"Muffin's Misti Mistiq" adopted by
Emily and Natalie, she is Natalie's little army brat

Trina, Colton and Connor pickup Trooper 4 friends
Billy, Andy and Tyler gone home to Arkansas to be Andy's new best friend

Pam and her children: Farrah Tineal and MIdasTouch
Farrah is adopted today to join the family of Pam and Midas

"Bob" gets picked by DaddyJohn and Aunt Kim while


moma Shelby chooses "Tippy". Bob goes home today to Arkansas, Tippy will have to grow a bit more

Little Bob (now named Kelton) goes home to


meet with Walker, very happy to meet each other and share their world.....with John and Shelby

The Goss family pick up Cassidy Jade "Lexi"


gone home to Arkansas

"Dooby" goes home with Traci and Ryan
His big brother, Bennie Boo, will be happy to see this little guy.

Nicole, Casey and Caslin adopt "Carlton"
renamed Prince, staying in Oklahoma

"Bambi" finally gets to go home with Daydrena
and mom, grandma and auntie in on the excitement of the adoption day, gone home to Ark.

Daniel and Lacey adopt their first child: Axel
staying close in Oklahoma

Abigail goes home with Aletha in Ark

Pam and 'the MIDAS touch' pick each other
gone home to Arkansas

"Dandy" goes home with Christine in Okla
Another thanks to Oreo, Katrina and Mike

Rick and "Little Hoot" come to visit
getting his last shot from Meemaw at Shihtzu Heaven

"Tabitha" Renee and Grandpoopah
Driving from Michigan, Renee adopts her first child and Grandpoopah is pretty happy too!

"Little Jen Jen" goes home to Ark w/big bro Jeffie
with Machelle, Chuck and Jeffie

A kiss for Mama Mandy......................

Little Peanut (Imperial size) gets a family
gone home with the Dill family in Oklahoma

Aletha and John choose Calli,

A present for Moma Loretta from Phillip and Asia
choosing Teddy Bear for their new family companion

Oreo chosen by Sandra in Arkansas
It was a hard choice, but look how happy we are now!

GranPa, Courtney and Taylor are very happy with
their new family member: renamed Bubbles-- going to be a college companion

Molly goes home with Reda, Tammy and Mike

Little Sonny goes home w/ Moma Kim & Aunt Marissa
Daddy and big sister, Trixi, waiting at home

Bobby and Jess choose "Sammi" HAPPY ANNIVERSARY
Adotping their new daughter on their 65 wedding anniversary.

Christine adopts Pookey, sister Shirley lends
moral support, Great Choice she thinks!

Patty, GrMa Sue, Victoria and Morgan adopt Willard
Happy Birthday Patty

Tabor, Lezlie and Brad adopt CoJo

Blair adopts Abby
Sister Morgan and neice Mabry help carry all the goodies Meemaw sent home with her.

"Colbie" now living in Philadelphia with th Lynch


family and his new girlfriend, Chloe! Another match mde in Heaven!

"Cotton Candi" at home in Arizona with the


Gorman family. She is the family mascot, loves everyone, I hear!

"Kylie Anne" goes home with Brandon & Chris


to surprise Hayden, we are waiting for the picture of her and Hayden....

The picture has arrived of Hayden and Kylie,


aren't they a cute pair of girls. Thanks for adopting a Shihtzu Heaven PUppy

Alice chooses her new friend, "Hope"
living well in Arkansas and her new mommie is so happy with her!

"Little Chip" gets chosen by Derrick for Kristi's
mother's day surprise! Now assisting Derrick is 'Uncle Rebel?" I don't know about these two as

baby sitters, hopefully Kristi got control of Chip and saved him from these two. Just kidding guys, ya'll did a great job picking him out. Thanks to Gma, Donna (a satisfied Shihtzu Heaven customer) for the referral .

"Teddy Bear (Paden)" gets his new family
Shihtzu Bro "Ty" and human pack: Brad, Brandy and Gabriel. He was so excited, staying in Oklahoma

"Sasha" chosen by Ramona and
Sampson "a 2009 Shihtzu Heaven Puppy" come back to get him a friend.

GOING HOME--Gizmo headed home to Ark
Amanda was a trooper waited on him since the day he was born.

Gizmo finally gets to go home, Amanda, Preston,
Chastity, Debra and Uncle Sammy are so excited to get him home.

"Luci" chosen by the Gambles, they now have the
perfect family.

Aunt Pat and little Max came back to SHihtzu Heaven to help mom and dad and Mekayla get a puppy as smart and happy as Max, they picked a winner: Luci

Mac is going home finally, Janet and Aarion is
a little bit happy about that! "Merry Christmas Guys & Happy New Year"

Kassidee Bells goes home to Arkansas
Cary, Terri, Chase, Trent and Cole are very happy. Good luck Teri w/Chemo.. you are in our prayers

Molli Ma Lei' adopted by the Kerby family and
gone home to Kansas. Had a wonderful ride home and now taking over the house. Hmmm

We are doing fine, maybe one accident, she is taking over the Bichon's toys and trying to play really well. My grandkids really like her, we are really enjoying her. Thanks for checking on us., hope you are OK on your chemo, I will pray for you. Elaine

Sammy adopted by Shawn,Shelly, Matthew, &
Hunter and Hayden now living in Arkansas, going to be an OU fan with daddy

You would never know we had three kids scared of dogs before Sammy came into our lives. He sleeps good all night does well in his cage, he is doing great. Having a few potty issues but working on them, we blame ourselves, how often do we go out? Shelly

Cory and Sheila
Came to get her grandpuppy, Nova......then fell in love with her new son: Cory

Nova is so excited, giving moma kisses
Nova finally gets to go home with his new mommy, Shelby, it was a long wait! But he is worth it!

"Maxwell Kelton" gone home with Paul and Cindy
to live in Arkansas and entertain the grandchildren, AND mom and dad, of course!

"Pamela, you have done a fabulous job training Max. He sleeps in his kennel (we got from you) and goes potty routine, goes to the same door and no accidents, loves his toys and loves to watch TV. I realize this all took hard work and consistency. You have built such fabulous routines for Max that I don't want to undo them. Thanks for all your help" Cindy

"Mia May" going home wth th Harters and "Hannah"
from Illinois. 2 Shihtzu Heaven puppies. Hailey's birthday is going to be special this year.

Kristin and Meemaw, Jana, choose Grady
Gone home but staying in Oklahoma

Kristin and Grady renamed Parker
Parker becomes Kristin's little baby boy, best companion ever!

"A letter about your puppies: Hi, my name is Stephanie, I have been looking for a shihtzu. The other day I was in a local store and met a lady with a beautiful shihtzu..I guess she heard me whisper to my husband that that was a shihtzu like I wanted and she came over and began telling me about you and how great a breeder you were, about how you took time to train her and the special things you send home like the bed that smells like home for the first scary nights, that lady was Kristin and the puppy was Grady. It is not the right time, yet, for our family but when it is, I will be in touch with you. Because your customers say you are the BEST breeder ever! I felt like I should tell you that you are doing a fastastic job with these dogs and the families that love them. Sincerely Stephanie"

Monte Max chosen by Erik and Laura
staying in Oklahoma

KK and CJ at home in Arkansas with their human
siblings: Parker and Carley

KK chosen by Sherry, gone home to Arkansas
to see sister, CJ, friends forever.........

Little Kitti arrives in Nebraska, meets her new


mommie and daddy and renamed: Sophie. Sweet family

Camryn, grandson of Annetta family pick up
Kitti Kae and take back to Nebraske to Shirley and family... Thanks guys.

Carley, Sherry, Seth Parker choosing
Carley Jade to go home with them to Arkansas

Rico is chosen by Payton--------Sammy by Maddison
staying in Oklahoma with this happy family..Mom,Dad & Bro are proud of their new twins

The long wait is over for "Bambi" gone home
with her new mommie, Daydrena , loving her new friend.

Rascal adopted by Floyd and Nancy
moved to Arkansas

Marcy Mae adopted by Karen in Illinois
Renamed Lucy A BIG thank you to Aunt Ruth Ella for picking Marcy up and taking her to Illinois.

Roy and Billie choose Cloi Toi
Gone home to Washington State with sister: Sophie. Traveling in an RV and seeing the country.

Tracie and Chanda adopt Sweetie Pie

"little Bear' and Momma Angie
love at first sight,

Oreo and Katrina visiting from Colorado
Oreo flew to meet his new parents then drove back and brought the family to get babies.

Pam and Imperials: Max and Molly
visiting Meemaw to get their last shots, these guys haven't grown much.

Renee and "Tabitha" Imperial size

and then the 'recovery' see his tongue, the big
Ummmmmm! my new parents taste GOOD! says Casey, home in Arkansas, renamed Barkley

"Abbie" goes home with the Sullivans
home in Arkansas

Pam and Fred choose Molly
many visits and weeks later....finally she is going home in Oklahoma

"Calli" is chosen by Aletha
going to Ark

Oscar's new family in Oklahoma

Mandi/Bryan and the new baby girl, CHLOE
Our First Child

Reda and Molly, happily ever after

Nick, Bob and Mia Angel go home to see
Moma Jan and sisters: Dixi and Rosie

Alex and Carrie take Casey home on Valentine's Day

Mi Amber Lady adopted by Penny, James and Bethaney


are sure it is the right choice......renamed "Mya"

Pam & Chuck take a leisurely drive to McCurtain
PheBee adopts a brother, welcome Tommy renamed "Bear"

Pat & her new baby girl, Holly J. renamed Chloe
These girls are going to be great FRIENDS

Sasha adopted by Candice and Joseph & the girls

Blair and Abby choose each other........

Judy, Bill and big brother, Guy, take home Scout
The Parker family adds a new member: Piper
Max and Shelby not so excited... however Shelby and Piper are now ganging up on Max.. what fun!
Peggy and David, Lola and big brother, Sarge
Happy New Year to this new family Sarge came from Shihtzu Heaven years ago, now picks up Lola
Emily and Little Tiny Ollie
Big brother: Odie and daddy: Cesar waiting at home...and don't forget Grma, thanks Grma!
Brent and Tiffany adopts Bella
referred by mom and dad and "Sophie" a gift from dad to mom last Christmas
Pam and Craig take home Cole renamed Benji
Going home to meet Bailey who also came from Shihtzu Heaven 3 years ago
David/Lynette and Kathryn choose Teger
Teger now named Milo
Sasha adopts "Stetson" renamed "Axel"
Look closely for new sister "Oreo" in passenger seat....thanks PaPa Dennis for driving them
Alan, Allison & Heidi Klum
Going home to see Popa Ron
Which one will Santa bring?
Uncle Kevin & Aunt Mia try
to help out
Hey Santa look at these two!
It was the one on the right, named Cinnamon Apple by Brianna
Haley goes home
with the Downings
The Downings and their new baby girl:
mommie, daddy and big brother
Bubby Moe goes home with the Absheres
Cooper adopts a mommie and a big brother
Honey gets a new home with David and Vanessa
Muffin Izzabella "Izzy" to Ark w/Holly & Brian
Aunt Trixi gets to go to grandma Sherri's house
Harley picked by David and Susan
Bill and Pat pick up Maxwell
Maxwell makes mom and dad BOTH smile!
Little Dublin adopted by Monica and Mike
GOING HOME
Jenna and Cody Jr, heading for Arkansas
GOING HOME "Finally" It was a long wait
Mollee Chanel gets to go home with Kim and Doug
GOING HOME with Saundra and Kelly
The long awaited pickup day for Baby Boy
Jill, Mary and Codey go home to Texas
Codey will meet his uncle Buddy in Texas
Scamp poses for a picture with his new sister
Sabrina is LESS than thrilled.....look at her eyes.....
Scamper helps mom and dad p/up sister: Sabrina
Clifford and Joann add Sabrina to the household. One big happy family
Saundra picks out her little angel to adopt
Family photos on adoption day.........let me know if your photo isn't posted. Thanks to all of you who have adopted my little angels and also for sending your family and friends to SHIHTZU HEAVEN to get their own little angel. Thanks
Lorrie and Gail adopt Honey Bunni
Panda and Mavrick adopted by Buppy in Texas
Thanks Coleman and Carolyn for picking them up
Lori/Jaylee/Sundy adopt BBboy
Little Louie/COOPER adopted by the neighbors
Big Brother, Mama Dee and Aunt Lisa are very happy with their choice
Cayanne adopted by Joe and Jackie & friends
Laura and Haley adopt Chloe
Duca Family adopt Jenna and Cody Jr
Meek Family and Friends adopt Little Maxwell
Hannah Bella Rose and family
Bella and new parents: Nick and Michelle
Joann Clifford and Little Willy
Renamed "Scamper"
Timmy Preston adopted by the Smith family
David, Linda (Chloe) Kennedy & Natalie
Kennedy & Chloe get acquainted
LOUIE, (SKIPPY) & RETHA LEAVE FOR HOME
David (Cricket) Connie get acquainted
Bonding with Daddy (Cricket)
Judy and Moses/renamed Shadow